Five years ago, as the NFL's 2015 free agency period was approaching, we looked back through the Tampa Bay Buccaneers' history on the open market, searching for the team's best decisions across what was then a 22-year stretch of player shopping.
One thing was clear: Truly franchise-changing signings don't happen often, and when they do they are worth celebrating. Simeon Rice was "the final piece of the puzzle" for a Super Bowl-chasing defense. Hardy Nickerson was a culture-changer and a tackling machine. Vincent Jackson was even better than advertised.
It may be time to celebrate again. The Buccaneers didn't fill up their cart in last year's free agency period, as they were operating under a tight cap, but they came away with some impact additions. Bradley Pinion was a reliable punter who also set a new NFL single-season record for kickoff touchbacks. Breshad Perriman was a third receiver who was playing like a number-one by season's end. And then there was Shaq Barrett.
Tampa Bay signed Barrett away from Denver, where he had shown flashes of pass-rush potential primarily as a reserve in a deep Broncos rotation. Barrett got what he wanted, a chance to start, and the Buccaneers got more than they ever could have hoped. All Barrett did was led the NFL and set a new single-season franchise record with 19.5 sacks. Since Barrett came to Tampa on a one-year deal, he now has a chance to be the Bucs' best free agent signing two years in a row. Both he and the team seem quite motivated to get that done.
Five years ago, that look through the team's free agency history produced our list of the Bucs' 20 best free agent signings ever. At the time, we noted that the list would obviously have to be updated at some point. Now is that time. The Bucs have added some useful players through free agency in the interim, including center Ryan Jensen, punter Bryan Anger, wide receiver DeSean Jackson, defensive lineman Beau Allen and special teams ace Josh Robinson, but nothing that prompted us to update the list.
And normally we wouldn't expect to put a newcomer into that top 20 after just one season, but Barrett's accomplishments were so outsized that he is an obvious exception. So, just where does he fit on the rundown of the team's 20 best free agency signings ever? Read on.
A couple of notes regarding that list: We considered only players who officially qualified as unrestricted and restricted free agents (UFAs and RFAs). We did not include any player who had become available to sign because he was released by his former team, so don't go looking for Keenan McCardell or Randall McDaniel. We did not include players already on the team who re-signed with the Buccaneers.
So here's the updated list: The Tampa Bay Buccaneers Top 20 Free Agent Signings. So far.
20. CB Charles Dimry, 1994
In the first five or six years of free agency the Buccaneers signed a multitude of mid-level cornerbacks, and Dimry proved to be one of the best. He was in and out of the starting lineup for his first six NFL seasons, in Atlanta and Denver, but for the Bucs he became a solid starter for the better part of three years. Dimry didn't make any Pro Bowl visits and he won't go down on any All-Time Buccaneer teams, but he did spend one of the best stretches of his quietly-effective 12-year career in Tampa.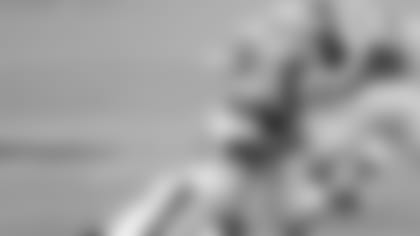 19. DE Jimmy Wilkerson, 2008
Wilkerson makes the list despite playing only two seasons with the Buccaneers because he represents one of the best things free agency is supposed to make possible: a reserve on one team getting a chance to shine in a bigger role on another team. Wilkerson had started just five games and recorded just one sack in five seasons in Kansas City, and even though he apparently was well-regarded by Chiefs brass he chose to look for something more in Tampa. Over the next two seasons Wilkerson played in 31 games with 16 starts and produced 11 sacks and three forced fumbles. And that just happened to earn him another new free agency contract with New Orleans in 2010.
18. G Kerry Jenkins, 2002
Another player who spent only two years in a Buccaneers' uniform, and those happened to be his last two seasons as an NFL player. What gets Jenkins on the list is that he arrived just in time to make a major contribution to the franchise's most important season. New Head Coach Jon Gruden used free agency to help him overhaul the Bucs' offensive line, moving Kenyatta Walker from left to right tackle, picking up Roman Oben after he was let go by Cleveland to play on the blind side, and nabbing Jenkins from the Jets for left guard. Jenkins brought gritty determination to the line, at one point playing through a fracture in his leg and missing just one game. The following year, he was initially pushed to reserve status by the newly-signed Jason Whittle but he got his job back after five games and stayed there.
Former Cowboy Kenny Gant started all of three games over three seasons with the Buccaneers…and yet here he is in our top 20. That's because Gant wasn't necessarily brought in with a starting role in mind; he was signed to be the team's special teams ace, and he proved to be exactly that. Gant brought his "Shark" nickname with him from Dallas and it caught on in Tampa because fans loved his enthusiasm and his efforts in the kicking game. Gant made some occasional contributions on defense but his signing would be considered a success if he only played on special teams.
16. TE Jackie Harris, 1994
Harris was actually a restricted free agent when the Buccaneers plucked him off the Packers' roster, and they were right to think he had the makings of one of the best pass-catching tight ends in the league. If it weren't for a handful of injuries that cut three of his four seasons in Tampa short, Harris would likely be significantly higher on this list. His first Buccaneer campaign, in fact, was a disappointment when he was limited to just nine games and 26 catches, but he got a chance to show what he could do in 16 games in '95. That season, playing on the NFL's 26th-ranked passing attack, Harris hauled in 62 passes for 751 yards. That was third among all tight ends in the NFL and 16 more than any other player on the Bucs' roster. Harris played a dozen years in the league and recorded more than 4,400 receiving yards. This was a good signing that could have been great with better injury fortune.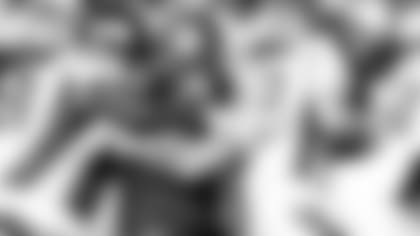 A free agency addition who starts 79 of 80 games over the next five seasons? Yep, that's a success. Hovan split his NFL career evenly between the Vikings and the Buccaneers, and it's true that he recorded 17 of his 22 sacks while in Minnesota. However, while his first five years might have been the higher-profile half of his NFL decade – especially when he was a designated antagonist for Green Bay's Brett Favre – his five seasons in Tampa were quite valuable, too. In his first year with the Buccaneers, Hovan stepped right into the nose tackle position next to Anthony McFarland and helped the team rank first in the league in defense for the first time since its Super Bowl season. Over his five seasons with the team, Hovan started next to four different under tackles, but he was a consistent and productive presence that entire time.
The Buccaneers needed a new center after releasing Jeff Christy a few weeks after the Super Bowl. They targeted John Wade, who had spent five seasons in Jacksonville but only two of them as a starter. He had opened all 16 games for the Jaguars in 2002, and he was apparently ready to settle in because for the next five years in Tampa he rarely left the lineup. Wade started for two playoff teams, opening every game in '05 and '07 and helping rookie RB Cadillac Williams crack 1,000 yards in the first of those two campaigns. Wade did miss the second half of 2004 with a knee injury but made an impressive comeback to start every game for the next three years.
Christy came before Wade, and he wasn't at his position in Tampa as long, but he gets the higher spot because he was the starting center on the Bucs' 2002 Super Bowl team. Tampa Bay actually grabbed Christy from the Vikings' front line in 2000 (along with fellow Minnesota star Randall McDaniel) and he stepped in seamlessly for departed Pro Bowler Tony Mayberry. Christy only missed one game over his three seasons in Tampa, and in 2000 he helped Warrick Dunn and Mike Alstott produce one of the best rushing attacks in the league. During the 2002 playoffs, Christy and his offensive line mates hit a serious groove, allowing just one sack over three games, including none in the Super Bowl.
Hovan, Wade and Christy all played for the Buccaneers longer than Garcia and might have good arguments to rank above him on this list. Garcia gets the higher spot simply because of the difficulty of finding a quarterback in free agency who can step directly in and help turn a team into a playoff contender. After the Buccaneers struggled through the 2006 season with, mostly, rookie Bruce Gradkowski under center, Jon Gruden's Buccaneers brought in the former 49ers Pro Bowler who had spent three years languishing in Cleveland, Detroit and Philly. Garcia played two seasons in Tampa and struggled at times to stay on the field due to injuries, but when he did play he played well. Garcia' passer rating from his two years in Tampa was an excellent 92.2 (particularly for that era), and more importantly he won 14 of his 24 starts. The Buccaneers made it to the playoffs in 2007 and appeared to be on their way again in '08 before a season-ending four-game losing streak. Garcia was also named to the Pro Bowl in 2007.
11. LB Lonnie Marts, 1994
Lonnie Marts was at the beginning of a merry-go-round of starters at strongside linebacker in the Bucs' Cover Two defense through the years, though he actually arrived two years before Tony Dungy and Monte Kiffin. Marts was signed by Sam Wyche's team in 1994 and he immediately became the starter at left outside linebacker, which was roughly equivalent to the same position. He had two solid seasons and then, upon the arrival of Dungy and Kiffin in 1996, saw his role expand into one of the team's primary pass-rushers. Marts had seven sacks that season as the linebacking trio of him, Hardy Nickerson and Derrick Brooks was the strength of a defense that showed huge improvement, jumping to 11th in the rankings from 26th the year before. Marts hit free agency again after '96 and his sack outburst helped him get another nice deal from Tennessee.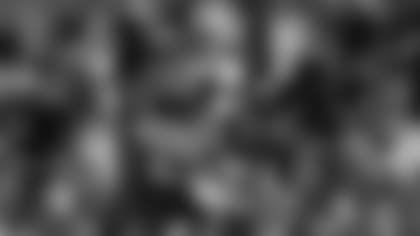 10. WR Joe Jurevicius, 2002
Putting Joe Jurevicius in the top 10 is a matter of stressing quality over quantity. Jurevicius was a Buccaneer for three years, and the unfortunate truth is that injuries cut deeply into his production in the second and third seasons. In total, he caught 76 passes for 874 yards and eight touchdowns as a Buccaneer which is less than, say, Bert Emanuel. But had the Bucs not lured Jurevicius away from the Giants in 2002, they might not have a Lombardi Trophy encased in the lobby of One Buc Place. Jon Gruden overhauled the Bucs' offense during the spring of 2002, and Jurevicius and Keenan McCardell (again, not a UFA and thus not eligible for this list) joined Keyshawn Johnson to form a reliable receiving corps for QB Brad Johnson. Jurevicius had 37 catches for 423 yards and four touchdowns in '02, and he had a knack for big plays at key moments. Never was that more true than in the playoffs, when he sparked a Buccaneer rally in the NFC Championship Game with an unforgettable 71-yard catch-and-run. He also had the team's longest reception in the Super Bowl and ended up on the cover of Sports Illustrated for it. There's a reason that Joe Jurevicius is still remembered fondly by Buccaneer fans, and it's not just his final stats. When Buccaneers fans got a chance to vote for the team's best signings in 2008, Jurevicius was their fourth choice behind three very big names you're going to see below. He would later get healthy enough to catch 145 passes over three seasons in Seattle and Cleveland.
A punter in the top 10? That's how good Josh Bidwell was. Signed in 2004 as part of a huge but woeful class of Tampa Bay UFAs, Bidwell quietly excelled for five seasons in Tampa. By the end, he was clearly the best punter the Buccaneers have ever had. Bidwell was already a winner when he arrived in Tampa, having survived a battle with cancer that cost him his rookie season in Green Bay and forced him to recover from a 50-pound weight loss to get his job back. After four good seasons with the Packers he came to Tampa and raised his game another notch. Among the Buccaneer career records owned by Bidwell: most punts (419), most punting yards (18,426), gross punting average (44.0) and punts inside the 20 (124). He's also the only Buccaneer punter ever to make the Pro Bowl.
8. CB Martin Mayhew, 1993
Not the very best performer the Buccaneers got out of the very first free agency class (see below) but a very astute signing nonetheless. Mayhew was originally a 10th-round pick in Buffalo who actually started his playing career in Washington after a year on injured reserve. There, playing in a strong secondary alongside the great Darrell Green, Mayhew blossomed into a legitimate NFL starter despite being undersized. In Tampa, he anchored the Bucs' secondary for four years, playing in 60 games and starting 59 and intercepting eight passes during that span. Mayhew also forced five fumbles and recovered two as a Buccaneer, even returning one of them 78 yards for a touchdown, the second longest fumble runback in team annals at the time. Mayhew excelled through intelligence and instinct and was one of the Bucs' better players during the Sam Wyche era.
Spires is one of four players on this list who were signed in 2002, and while the team's Super Bowl win that season certainly adds to the argument for all four, Spires impact was felt long beyond his first season in Tampa. The Buccaneers presumably had two starting ends in Simeon Rice and Marcus Jones when they signed Spires, who had made just seven starts in four seasons with New England and Cleveland. But Spires beat out Jones, who was released early in 2002 and set up camp opposite Rice at left end. For the next six years, he was one of the Bucs' steadiest defenders, and at times he was more than that, such as in his eight-sack campaign in 2004. Spires eventually logged 26.0 sacks to rank ninth in team history.
6. RB Michael Pittman, 2002
Another 2002 signing who was instrumental to the team's title run but also an impact player well beyond that year. The Buccaneers had lost Warrick Dunn to free agency and Jon Gruden brought in Pittman, who had been a starter for two seasons in Arizona and was very good at catching passes out of the backfield. Gruden definitely made use of that talent – Pittman's 284 catches as a Buc are the seventh-most in team history – but he also got plenty out of his new back on the ground. Pittman led the Super Bowl team with 718 yards and saved his best game of '02 for last with a 124-yard performance that garnered him Super Bowl MVP consideration. Pittman followed with a 75-catch season in 2003 and a career-best 926-yard, seven-TD rushing performance in 2004. He is the franchise's sixth all-time leading rusher.
5. OLB Shaquil Barrett, 2019
This is the absolute ceiling for Barrett on this list at the moment, as his incredible debut season can't yet outweigh the more lengthy and important runs of the players below. Again, yet. It is definitely fair to say that Barrett had the best first season among any player on this list, though he would get strong competition from all of the above players, particularly Jackson and Nickerson. Barrett not only became the first Buccaneer ever to lead the NFL in sacks, he earned Pro Bowl and second-team _AP_ All-Pro recognition and is likely to receiver some support for NFL Defensive Player of the Year. Barrett also tied for the league lead with 37 quarterback hits and was only one of the top spot in forced fumbles, with six. His 19.5 sacks are tied for the 13th-most in a single season in the NFL since that stat became official in 1982. Barrett led the charge for a Bucs defense that produced 47 sacks, its second-highest total ever, and was part of a front seven that was the toughest in the NFL – and in Bucs history – to run against. Here's hoping Barrett remains a Buccaneer and gets a chance to move higher on this list.
4. WR Vincent Jackson, 2012
Jackson begins our Final Four, a quartet of UFA signings that is clearly head and shoulders above the rest, at least until Barrett gets more time in Tampa. Finding a receiver who lives up to expectations in free agency can be difficult, which is something the Buccaneers know all too well, but Jackson proved to be one of the rare ones who exceeds expectations. The Buccaneers got the veteran receiver from San Diego, where he had cracked 1,000 yards three times in seven seasons and earned two Pro Bowl berths. Over the next three years he would add three more 1,000-yard seasons and another Pro Bowl berth. Jackson played out his entire five-year deal – again a relative rarity – and finished his Buccaneer tenure with 268 receptions for 4,326 yards and 20 touchdowns. His yardage total ranks fourth all-time among Tampa Bay pass-catchers and in 2012 he led the NFL with 19.2 yards per grab. In terms of pure statistical impact, few Buccaneer free agents have ever provided more, but Jackson was also a valued leader in the locker room with a professional approach to the game that young players like Mike Evans – who would take the torch from his veteran teammate – could emulate.
As we mentioned in the Jeff Garcia entry, finding a playoff-caliber quarterback in free agency gets you extra credit, and Johnson is one of the best quarterbacks the Bucs have had so far. He is the team's all-time leader in passer rating and completion percentage and, of course, he is the only one so far to guide his team to a Super Bowl title. Already seven years into his NFL career, Johnson came to the Bucs in 2001 after two strong years in Washington, including one Pro Bowl campaign. He took over for Shaun King and stabilized the Bucs' passing game in 2001 before breaking out his best season in '02. Johnson's 92.9 passer rating that year was affected most by his 22-6 TD-INT ratio, a good fit for a team that was driven by an otherworldly defense. Nicknamed "The Bull" because of his toughness, Johnson overcame a fracture in his back that cost him several games in December in the Super Bowl season, returning with a strong performance in the playoffs. When the Buccaneers' running game collapsed in 2003, Johnson threw for a then-team-record 3,811 yards and 26 touchdowns.
2. LB Hardy Nickerson, 1993
In the first year of unrestricted free agency, the Green Bay Packers managed to pry Reggie White away from Philadelphia and that might still be the best free agent signing ever. Hardy Nickerson was arguably the second-best pick-up of that first free agency scramble, and he made a similarly huge impact on his new franchise. Nickerson was a starter for a good portion of his six years in Pittsburgh, but he was instantly a star in Tampa. All he did in his first season was set a new team record with 214 tackles, immediately become the team's unquestioned leader and break the franchise's two-year Pro Bowl drought. Nickerson had to toil through several losing seasons, but he was there when the rest of the pieces of a dominant defense began to arrive, and he was in the thick of it when the struggling franchise finally turned its fortunes around in 1997. He started all 104 games in which he played and was rarely out of the lineup, though he did overcome a frightening heart infection in 1998 to come back strong in 1999 and help the Bucs to the NFC Championship Game. Simply one of the best and most intense players in franchise history, Nickerson ranks third on the team's all-time tackle list with 1,028 stops.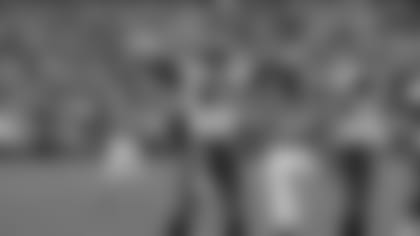 As Barrett began to climb his way up the list of the Bucs' greatest sack seasons ever, he repeatedly found himself chasing another great Simeon Rice campaign. Before Barrett's arrival, Rice owned three of the top four sack seasons in franchise history and five of the top 10. Rice was already a fully-formed pass-rushing star when he left Arizona for the Buccaneers, and a 2013 article on NFL.com tabbed him, at the time, as the 19th best UFA addition of all-time. Said author Jim Reineking in that story: "The Buccaneers already boasted one of the NFL's best defenses when Rice arrived in 2001 to help add a pass-rushing presence. Rice provided that pressure, registering double-digit sack totals in five consecutive seasons. In the Buccaneers' first and only Super Bowl appearance, Rice recorded two sacks as Tampa Bay dominated the Oakland Raiders, 48-21." Rice had a total of four sacks during that three-game playoff run, adding to his team-high 15.5 QB takedowns from the regular season. That was his highest single-season sack total as a Buccaneer, but he cracked double digits in all but the last of his six years with the club and was essentially the NFL's most feared pass-rusher during that span. Including two years with the Cardinals, Rice led all NFL players in sacks from 1999-2005. Monte Kiffin convinced Rice in the spring of 2001 that he would be the final piece of the puzzle in putting together one of the most dominant defenses of all time, and that's exactly what Rice proved to be. He's also the best unrestricted free agent the Buccaneers have ever signed, and another franchise number-one for Barrett to chase if he remains with the team.