In 2010, undrafted rookie linebacker Damaso Munoz attended a mini-camp with the Chicago Bears on a tryout basis. Though the tryout didn't lead to a contract with Chicago, Munoz was able to keep his professional career alive in Canada, playing the past three seasons with the Edmonton Eskimos of the CFL.
Now he'll get a second crack at the National Football League. On Wednesday, the Tampa Bay Buccaneers announced the signing of Munoz, a 5-11, 220-pound linebacker, to their 2014 offseason roster. Perhaps not coincidentally, the Buccaneers are now coached by Lovie Smith, who was the Bears' head coach when Munoz was brought in after the draft in 2010.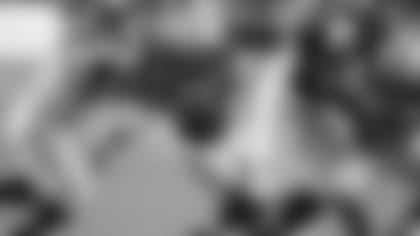 Damaso Nunez had 88 tackles and three sacks in each of the past two seasons with the Edmonton Eskimos
Having established himself in the CFL – Munoz recorded 243 tackles and seven sacks for the Eskimos from 2011-13 and also stood out on special teams – the former Rutgers player is now looking forward to his latest opportunity to make it in the NFL.
Munoz ranked second on the Eskimos defense last year with 88 tackles and added three sacks, exactly matching his totals in those categories from the 2012 campaign. He had 67 stops in his first full season of play in 2011 and also contributed 14 tackles on special teams.
The Buccaneers had great success importing a linebacker from the Canadian Football League in the 1990s. In 1997, the team signed Shelton Quarles, who had similarly failed to make the roster in his rookie-season attempt in the NFL (with the Miami Dolphins) and had gone on to star in Canada. Quarles made the Bucs' roster in '97 and immediately emerged as the team's best special teams player. Eventually, he worked his way into the starting lineup, first at strongside linebacker and later at middle linebacker. In his first season in the middle, Quarles earned Pro Bowl honors in 2002 and helped the team win Super Bowl XXXVII. Munoz might find his best chance to make the roster in the same way, by making his mark on special teams.