The Tampa Bay Buccaneers' eight-man draft class will gather at the AdventHealth Training Center this weekend for the team's rookie mini-camp. But they'll hardly be the only rookies in attendance.
The eight players the Buccaneers selected in the 2019 NFL Draft were among the 254 former college standouts chosen overall from April 25-27. That still left hundreds of intriguing prospects available, however, which is where "Round Eight" comes in. At the conclusion of Round Seven the Buccaneers began contacting some of those prospects; on Thursday, the team announced 16 more rookies added through that process.
Among the players who chose to come to Tampa after going undrafted were Dan Godsil, the top-rated rookie long-snapper, prolific University at Buffalo wide receiver Anthony Johnson and North Dakota State running back Bruce Anderson, a local product who played his prep ball at Newsome High School in Lithia.
As usual, the Buccaneers hit just about every spot on the depth chart with their group of undrafted free agents (UDFAs). Mississippi State's Nick Fitzgerald rounds out the quarterback group, joining Jameis Winston, Blaine Gabbert and Ryan Griffin; the Bucs had released fourth quarterback Joe Callahan just before the draft. Fitzgerald is now teammates with a collegiate instate rival, as Ole Miss wide receiver DaMarkus Lodge is coming to Tampa as well.
Also included among the Bucs' 2019 UDFAs is inspirational defensive end Kahzin Daniels, who did not let blindness in his right eye stop him from racking up 34.5 sacks in four seasons at Charleston.
There's a good chance that one or more of these players will make their way to the 53-man roster in September. The Buccaneers have a good track record of finding talent in "Round Eight," particularly in recent years. Wide receiver Adam Humphries, running back Peyton Barber and tight ends Cam Brate and Antony Auclair all originally arrived in Tampa as undrafted free agents. In fact, at least one undrafted rookie has made the Buccaneers' Week One roster every year since 2008.
Here are the 16 undrafted rookies who had agreed to terms with Tampa Bay: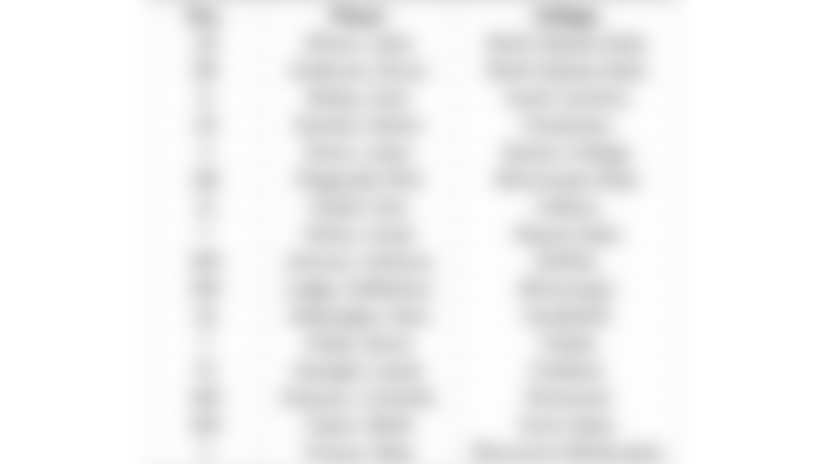 At 6-4 and 241 pounds, Godsil has good size for a long-snapper and was a helpful cover man at Indiana, racking up nine special teams tackles. He even set a record for long-snappers at the NFL Scouting Combine when he recorded a 34.5-inch vertical leap. In Tampa, he will compete for the snapping job with Zach Triner, a first-year player who has not yet seen action in a regular-season NFL game. The Buccaneers did not re-sign their snapper of the past two seasons, 10-year veteran Garrison Sanborn.
Johnson and Lodge were well-regarded receiving prospects heading into the draft; NFL.com pegged Johnson as a potential fourth-round selection and Lodge as a player who might go in the sixth or seventh round. Both are big receivers – Johnson is 6-2 and 209 pounds while Lodge is 6-2 and 202 pounds – and both are coming off two straight strong seasons at their respective schools. Johnson caught 133 passes for 2,367 yards and 25 touchdowns the past two years at Buffalo, including school-record marks of 1,356 yards and 14 touchdowns in 2017. Lodge's last two seasons at Ole Miss included 106 receptions for 1,575 yards and 11 scores.
Anderson took part in the Buccaneers' pre-draft workout for local prospects at team headquarters on April 12. Now he returns to the AdventHealth Training Center with an opportunity to join a young Tampa Bay backfield that could potentially use another option to go with Peyton Barber and Ronald Jones, especially after the Buccaneers did not select another running back in the draft. The 5-11, 210-pound Anderson played four seasons at North Dakota State, rushing for 2,896 yards and 24 touchdowns and averaging 6.0 yards per tote. Anderson is joined in Tampa by his Bison teammate, Allison, who had eight interceptions and 38 passes defensed over four years.
Anderson also has something in common with another one of his new teammates, Fitzgerald, the former Mississippi State quarterback: They were both born in Germany while their fathers were serving in the military. Fitzgerald started every game for the Bulldogs the past three seasons and finished his career with 6,207 passing yards and 55 touchdowns. Fitzgerald, who ran a 4.64 40-yard dash at the Combine, also ran frequently, racking up 3,607 yards and 46 touchdowns on 601 carries.
Daniels lost the sight in his right eye in a scooter accident when he was five years old. The injury did not keep him off the football field or limit his play at Charleston, where he set the school career record with those 34.5 sacks. He was listed as a defensive end with the Golden Eagles but frequently rushed from a two-point stance and would be considered an outside linebacker in the Buccaneers' 3-4 defense.