Brick-by-brick – an expression that Buccaneers' wide receiver Chris Godwin personifies. Although the perspective is one established amidst an onerous rehabilitation process, it fostered resiliency.
After working his way back from a devasting ACL-MCL tear on December 19 that prematurely ended Godwin's 2021 campaign and a subsequent hamstring injury in Week One that sidelined him for the next two games, Godwin made his highly-anticipated return on Sunday against the Chiefs. Surrounded by a sea of red inside Raymond James Stadium, No. 14 ran onto the field to the elation of the crowd. Every route, cut and catch in traffic by Godwin distanced him from the singular play that altered his course.
Late in 2021, on a routine crossing route against the Saints in Week 15 on third down– one that Godwin had run an innumerable number of times before – his prolific season came to a crashing halt. Godwin suffered a devastating knee-injury after taking an egregious low hit in a collision with P.J. Williams. Early indications were that the injury was to the MCL, and the team was hopeful Godwin could potentially return for the playoffs. However, further testing the following day revealed the worst possible scenario: A torn anterior cruciate ligament in his right knee that would require surgery.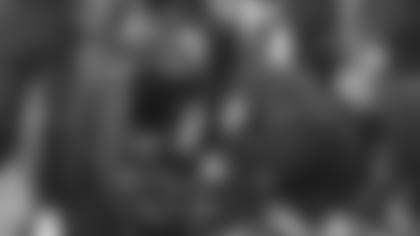 "My first thoughts were, 'How can I get back into the game?' Godwin described. "It was a big game for us. Anytime you play a divisional game - especially that late in the season - it could potentially impact the playoffs. That was my first thought, but looking back on it, I'm glad that I didn't end up going back in because I feel like I would have beaten myself up a bit if I had gone back in and then ended up with the same result; the next day finding out that the ACL was in fact torn. If I had gone back in, I would have felt like I put myself in an increased risk. I would have felt like I caused it as opposed to it being a freak play."
At the time of the injury, Godwin accounted for a third of Tom Brady's targets. He concluded the season with 98 receptions (second-most in franchise history) for 1,103 yards, adding five touchdowns to the mix. In the ensuing months, an awakening commenced as reality sunk in. The injury not only became the platform for a comeback but initiated the process of discovery through recovery.
The ACL – one of two ligaments that crosses over the middle of the knee – connects the thighbone to the shinbone, helping to stabilize the joint. Before the surgery, Godwin underwent physical therapy to reduce pain and swelling, restoring the knee's range of motion/full extension, and strengthening the quad for post-operation. With medical advancements in recent years, what used to be a career-ending setback has transitioned into a record-setting resurgence for many professional athletes.
On January 3rd, Godwin underwent successful reconstructive surgery to repair his ACL and MCL. The procedure was performed by renowned Dr. James Andrews in Pensacola, Florida. Fortunately, the procedure revealed he suffered no meniscus damage. During the procedure, the surgeon removed Godwin's damaged ligament and replaced it with a patellar tendon, or graft (one of the three options – deemed to be the strongest of the available selections). Dr. Andrews then drilled sockets into the thighbone and shinbone to accurately position the graft, which was secured to Godwin's bones with screws. The graft served as temporary scaffolding for new ligament tissue to grow.
"For a few months there, it felt like there was a war being fought inside of my leg," Godwin recalled. "That was especially the case for the first couple of weeks, because it is a lot that happened. There was a lot of trauma that my body went through. It's reconstructive surgery and part of my tendon is now placed where my ACL was; things have been cut, there are screws in there, there are stitches, there is a lot of healing that had to go on for my body and that is not a comfortable process at all."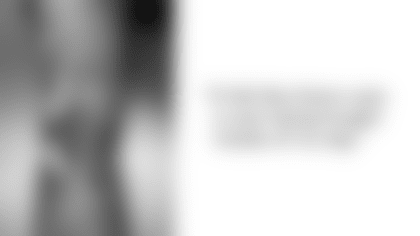 "On top of that, there is a lot of the range of motion that I had to do and it can be pretty painful because I had a lot of swelling inside my knee joint, which makes it that much harder to move. There would be times where the swelling would be more liquid and fluid, and whenever it was like that it was easier to move. But that is like the difference between having a balloon filled with water and then a balloon filled with sand. Sometimes, when the swelling was firmer, it was like trying to move that balloon with sand in it. That was pretty painful and uncomfortable, but I just chalked it up to being all part of the process. I had never been through anything like this before in my life. That was my first major injury and hopefully my last, but every day to me was a brand-new day. People can tell you what to expect in terms of it being a long process and things to focus on, but nothing can prepare you for how your body is going to respond to everything that's happening."
Football captivates as athletes overcome recurring obstacles to achieve a common goal in the timeless rendition of survival, fall, victory and defeat. Eventually, hard work pays dividends but it is not guaranteed on any given play. It is a perpetual cycle driven by a wholehearted pursuit of greatness. Additionally, Godwin's progression embodied this theme.
The arduous rehabilitation process was broken down into stages, with each day bringing with it a mind of its own. One day's strides did not necessarily lead to similar results the next. Minuscule tasks that are often taken for granted; Godwin now coveted and embraced. His leg had become a shell of what it once was and had to gradually be rebuilt. From initially icing the knee to eventually regaining full range of motion, every step optimized growth.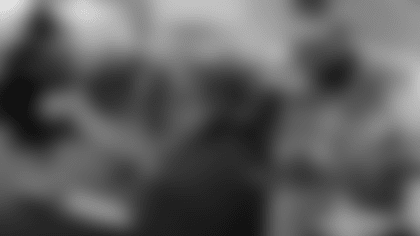 Week 1: Focus is spent on regaining the ability to contract the quad with leg raises to work on flexion and reducing inflammation by icing the knee and resting.
Week 2: Bearing weight and continuing to stress basic range of motion and manage swelling in the knee. During the first couple of weeks post-op, the knee is the most vulnerable.
Week 4/First Month: The walking and mechanics' stage. Building lower body strength through biking to support the knee by quad and glute enhancement is crucial. Low-impact activities become possible as the knee continues to grow stronger.
Month 3: Running begins. From the treadmill to the field, full range of motion is targeted by lower-body weightlifting.
Month 5-6: Cutting. Change-of-direction drills begin to build confidence and endurance. Movements are fine-tuned as strengthening exercises continue to support the connective tissue in the knee.
During the extensive phases, Godwin began to invest mentally in the small victories, along with his wife, Mariah. As he learned to walk, run, jump, and ride a bike all over again with childlike wonder – tasks that Godwin was accustomed to mindlessly performing with ease – both Chris and Mariah commemorated the small achievements that over time formed a bolstered foundation. Jovial reactions to seemingly inconsequential actions helped break up days that felt monotonous and began the trajectory to physical/mental fortitude.
"One thing we would always say is lay one brick at a time, day-by-day," Mariah emphatically remarked. "Do not worry about building the whole house. We have a magnetic notepad tally on the fridge that says 'Bricks,' and we have made a tally of how many bricks have been laid so far. It is crazy because I am pretty sure we are in the 200's. That is another way of celebrating little milestones. We would get back from rehab and make a little tally mark. It is cool because you are laying one each day, but when you look at the tally marks – all 200 – that puts it into perspective."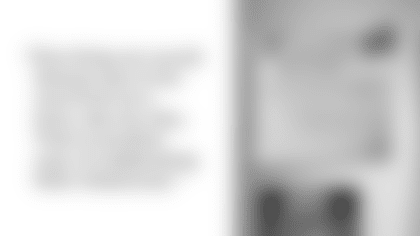 Chris and Mariah met during their freshman year at Middletown High School, in Delaware. The two quickly forged a rare connection and became best friends. The inseparable pair began dating their freshman year and went on to attend Penn State together upon graduating. After Chris entered the Draft in 2017 and was selected in the third-round by the Buccaneers, both put their academic careers on hold after Year Three to see Chris's dream come to fruition on the grand stage. From Friday Night Lights to Super Bowl confetti - and everything in between – Chris and Mariah have been through every life achievement side by side. On May 7, 2021, a month after hoisting the Lombardi Trophy, Chris donned a ring more invaluable: his wedding band.
"I don't know if there is a way to express just how pivotal of a role she plays in my life," Chris relayed. "Aside from being my wife, she has been my best friend for a decade now and that is not a loose term. That is legitimately my best friend. When I am with her, it does not feel like time has passed. We do not get tired of hanging out with each other, so I think just that fact and the amount of time that we spend together – we know each other like the back of each other's hand – but she has been so consistent in our relationship just in terms of how much she loves me. It doesn't matter what is going on on-the-field or off-the-field, the amount of support that she provides for me is so crucial for me but also just the consistency of being there for me and caring for me. The first two weeks when I was on crutches, there was stuff that I could not do. It literally felt like there was a war going on inside my body so I was drained of my energy and the first two weeks she was serving me as my nurse. She cooked every single meal for me and made sure all the medication I had to take was being taken at the right times and anything I needed, she was there to do it. It was because she cares about me and there are countless things she does day-in and day-out in our life, but also specifically during this process that made my life easier. I cannot really quantify how vital a role she plays in my life."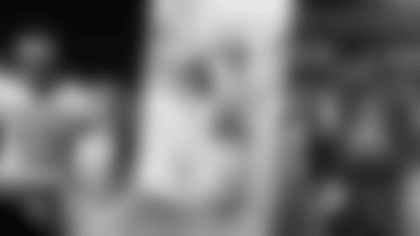 Chris and Mariah formed an unwavering bond that cannot be thwarted, embodying unadulterated love. Both openly express vulnerabilities and began prioritizing mental health three years ago – unaware of the challenging road ahead. The Godwins started a 28-day meditation workshop that they both currently perform daily to train the mind. In today's culture, often, people succumb to the notion that circumstances dictate attitude. The Godwins see attitude and perspective as choices, influenced by circumstances. They make a cognizant effort to cultivate a grateful mindset - one that supersedes temporary hardship. Facing adversity is inevitable but being defeated is optional.
"His attitude is incredible," Mariah emphasized. "Those nine months, it has just been him being positive. The day he found out he tore his ACL and came home; we gave ourselves an hour to just get all of the emotions out. We both cried. We were both frustrated. But the thing is, you cannot carry those with you because that affects the rest of your body, too. We said, 'Ok, we have this night and then after, we move forward.' You get to choose which thoughts you follow and which energy you are going to have and we chose gratitude. We looked at is as an opportunity for Chris to get bigger, better, faster and stronger. In the morning he would laugh and say, 'The work has to get done either way.' Another thing that we have always said since high school is, 'Working hard doesn't guarantee you success but not working definitely guarantees failure.' That is always the attitude we both take. You have to give it all you have all the time, because if not, you are leaving that opportunity on the table. You cannot control the outcome, just like the injury. His energy and resiliency through all of it – he is an inspiring person to know and an especially an inspiring person to live with to see every second of this. I have seen him win high school state championships, I've seen him win bowl games in college, and then to go to the Super Bowl, it is crazy to watch the progression of another person day-in and day-out for over a decade."
That mindset prepared Chris Godwin for the trials that the recovery process entailed and it manifested production on the gridiron. With an unrelenting drive, Godwin has cemented himself as one of the NFL's most dominant weapons out of the slot, evidenced by a three-year contract extension in March. Although Godwin missed the last three games of the 2021 regular season due to that severe knee injury, the Buccaneers expressed their confidence in him, locking him up long-term. As a natural competitor, Godwin beats defenders with physicality at the catch point and utilizes his frame to box out defensive backs over the middle of the field, putting himself in advantageous positions to haul in catches. With elite body control, Godwin can adjust on a dime to the ball in flight and is an aggressive blocker with effectiveness on crack blocks against safeties and linebackers. He plays an integral role in the Bucs' aerial attack and will continue to leave a legacy between the hash marks in 2022.
After weathering a storm, the embattled person who emerges is transformed. Brick-by-brick and day-by-day, Godwin has spent the past 10 months laying the foundation for a comeback. He exudes strength, not only in his ability to persevere through turmoil, but in the courage to start over in pursuit of a committed passion. As determination envelops his mind, hope abounds for the 2022 slate and as Godwin now takes the field, it is the scar on his right knee that propels him forward.