While the 2020 NFL Draft went on as scheduled, the events and gatherings surrounding it did not. This not only included the fan events scheduled to take place in Las Vegas, Nevada but also the traditional setup for front office personnel in team 'war rooms' usually set up at team headquarters – all of which are currently closed. Enter the IT guys.
Perhaps you've always had an appreciation for those who keep the ever-evolving technology it takes to run an NFL franchise humming along smoothly. But if you didn't before, you probably do now. Bucs General Manager Jason Licht and Head Coach Bruce Arians both had IT staffers at their homes for the draft who helped keep them connected not only to their staff, but also to the league as they phoned in their picks for each round.
The predicted, and subsequently dreaded, chaos that many expected to happen come draft night and beyond with every team making selections remotely… never happened. And this draft was collectively the most-watched NFL Draft ever. Over 55 million people tuned in throughout the weekend, a 35% increase over last year's numbers. Perhaps it was because people are desperate for sports. Or maybe we just all had nothing else to do. But either way, it went off without seemingly so much as a hitch.
"It was very seamless," Bucs director of football technology Spencer Dille said. "Not only for our team, but for every other team as far as I can tell. A lot of people were waiting for it to fail and thinking it was going to be a big mess but it ended up being extremely smooth and people like seeing GMs and head coaches with their families. I think a lot of people got a kick out of that instead of seeing a bunch of people on TV in suits in the draft room.
"We had thunderstorms all day Friday and I was a little on edge about that," Dille continued. "Somebody maybe losing power somewhere. But that was about the only moment. The beginning of the draft, you could hear thunder rumbling and I was like this would be the worst time for the first big thunderstorm of the year to hit Tampa."
But the weather held off. Dille was with Licht, while the Bucs video director Brett Greene was at the home of Arians. And for remote offices, they had some pretty sweet setups.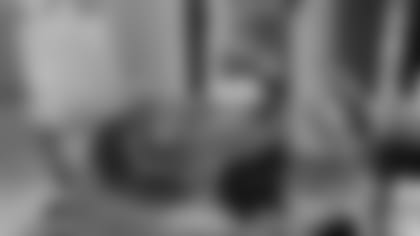 The logistics of pulling something like this off required weeks of preparation, with the league leading the way and sending 'draft kits' to each coach and general manager that included things like extra cell phones, tripods and lighting for on-camera interviews.
Then there were the individual setups, some of which you'll see throughout this article. Both Dille and Greene had to go to each at-home war room – six in all – to make sure their internet speeds were up to snuff and they had the correct equipment. Then there were contingency plans made for backup power in case the volatile Florida weather decided not to cooperate.
The six that had full setups were both Licht and Arians, along with Director of Football Administration Mike Greenberg, Director of Pro Scouting Rob McCartney, Director of College Scouting Mike Biehl and Director of Pro Personnel John Spytek.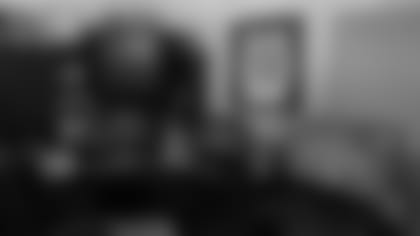 If you take a look at Licht's war room below, it almost looks like overkill, but he used every one of those monitors, phones, computers and tablets in some capacity.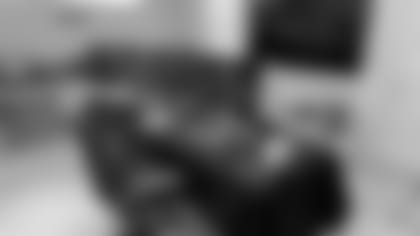 "We had to think about the worst-case scenario, right?" said Greene. "We had to think about backup power. They had a backup cell phone in case anything happened so they had two phones they could work off of. Every house really had their office phone, their personal phone. Then they had their backup cell phone. A couple people had two office phones like Greenberg and McCartney who were in charge of doing the trades. As far as the set up for the computers, you had to have your virtual draft room, which was Jason, Spytek, Mike, Rob, Greenberg and BA. That was on one computer. Then on your other computer would be the top 135 board – your draft board. Instead of being in the draft room and looking at that long board with magnets, this was on the computer. Then you had a separate monitor for pulling up the draft website that shows who is picking who and the clock, how much time you had left. Then you had another virtual draft room for the area scouts and the rest of the personnel department. That way everybody was in one room, even though it was virtual. That's where all the different computers and monitors come in. You also have a personal computer to pull up salary cap information or trade information. I know Jason looked like he had a lot of stuff but he was using everything."
Dille's team also spent the last month developing a unique software created for the Bucs that condensed the draft board, making it much more home-friendly.
"[Licht] didn't want that whole smart board transported to his house, so we developed something smaller that would fit on his iPad," Dille said. "He could rank his players the way he saw fit. You've seen that big magnet draft board on the wall and we basically condensed that so it could go on a tablet. Jason takes that draft board and builds his list of who we're going pick and in what order. Best available player-type thing and we put that on the iPad as well."
Remotely, the organization's IT staff was monitoring any security threats or breaches. Guys like director of information technology Sam Hart and senior network administrator Steve Rutkowski worked closely with league security to ensure they were doing everything possible to prevent issues. The software that Dille put together was also unique to the Bucs and needed its own security measures.
"Sam was constantly doing security checks in the background," said Greene. "For like a week they were constantly working with the league in checking our security for all the platforms we were going to use and making sure everything was encrypted and two-authentication, that kind of stuff. Those guys were just as involved as we were."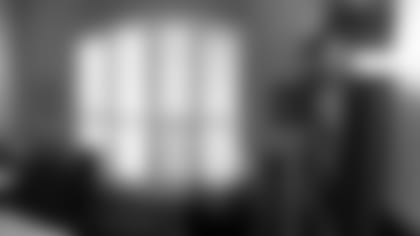 The thing about the job of people like Dille, Greene, Hart and Rutkowski is that if they do their jobs – you don't hear about them. They're like the offensive lineman of the front office, as Dille put it so perfectly in football terms. You usually only hear about them when something goes wrong. Though through this process, you may have seen Greene in the shot once or twice with Arians as he helped him navigate audio between his computer and phone while he talked to draft picks.
"I'm kind of upset about that," Greene laughed. "My cell phone started blowing up. I'm a behind-the-scenes type of guy. I don't want to be up front so I was trying to be off to the side, but BA was trying to talk to a draft pick and everything was so loud from the virtual draft room. I went to mute it and that's when they got me."
See? Total o-lineman mentality.
Aside from the logistical disparities between war rooms on draft weekend, the rest of the draft process didn't change as much as you may have thought.
"I would say you can try to make this complicated, but really at the core, it's about watching tape and seeing which players stand out to you that you like and Bruce [Arians] and I, and the coaches and the scouts, getting together and talking about him," Licht said following the weekend. "We did that. We were able to do that just like the way we're talking to you right now [on a Zoom call]. We set the board that way and in a lot of ways it wasn't different. The only thing that was different was not getting out there and having a lot of boots on the ground, hitting Pro Days and having personal workouts and visits. But we were able to visit with all of these guys – our coaches and our scouts especially over the last few weeks. We felt like we got quite a bit out of it. At the end of the day, we took the players that we felt like were going to help us and it's based off of film work."
"Yeah, I think our scouts and our coaches got tech-savvy real quick," Arians added. "We were able to do the interviews, you know, get a guy on Zoom or whatever for an hour, put him on the board [and] watch film. So, a lot of the stuff you would normally do face-to-face, we still got done. Hats off to all of our scouts and our coaches for putting in that extra time to get all of that done. They didn't get as many frequent flyer miles – that's the only bad part."