STORY HIGHLIGHTS
The Bucs have a lot of rookies to work into the offense this year, but they can all help in complementary roles
The main lessons from the preseason opener probably involved the offensive and defensive lines
Rookie Kevin Pamphile isn't likely to move to guard but he's got a real shot at the swing tackle role on game day

Each week, Senior Writer/Editor Scott Smith will dip into the inbox to answer questions from  Buccaneer fans.  This week, the discussions include concerns over the prominence of rookies on Tampa Bay's offense as well as the preseason opener in Jacksonville, plus a recommendation for another candidate in the ongoing competition to start at right and left guard.
Fans can submit questions for upcoming mailbags via Twitter to @ScottSBucs (#BucsMailbag), through a message on the Buccaneers Official Facebook Page or via email at **tbbsocial@buccaneers.nfl.com*.  The One Buc Mailbag runs every Thursday and is not necessarily meant to reflect the opinions of the team's management or coaching staff.*
I keep hearing that Austin Seferien jenkins (sp?) is doing good in training camp. Then you have Mike Evans, the receiver, and you know he's going to play a lot. And Lovie Smith seems to really like Sims even though we have all those other running backs. So my question is, can we really expect the offense to be as good as some people seem to think its going to be if we're counting on so many rookies? I've gotta say, that makes me pretty nervous.
- Leo Flores, via email to tbbsocial@buccaneers.nfl.com
Let's not forget that sixth-round pick Robert Herron is trying to win the job as the primary slot receiver and fifth-round pick Kadeem Edwards has a shot at taking one of the open guard spots.  So yes, Leo, I think that's a valid concern…but only to a point.
What mitigates the concern, in my opinion, is that the Bucs won't necessarily be asking any of those rookies to be the guy at their position.  Every one of them could possibly end up in a complimentary role and provide enough in that capacity to pull the offense up from its stagnant state of 2013.
Evans, the first-round pick, would seem most likely to end up in a very prominent role.  Most expect the former Texas A&M star to pair with Vincent Jackson in the X and Z receiver spots (I'm not yet sure which will be which and they do have some similarities in terms of size and skill set), although Evans is currently not listed as a starter on the depth chart.  My colleague Andrew Norton has previously written a little bit about what we should expect from a rookie receiver (it was a fantasy football story, but the numbers hold); you get your occasional Keenan Allens and Mike Williamses, but for the most part you shouldn't expect an 75-catch, 1,200-yard season.
You can on the other hand, expect that type of output from Jackson; after all, he's averaged a 75-1,304-7.5 line in his two seasons as a Buccaneer and he's not showing any signs of slowing down in this year's training camp.  He should get at least as competent quarterback play this season, and probably better, so there's every reason to anticipate getting similar numbers this year.  Given that Evans cost the Bucs the seventh-overall pick in the draft – the highest spot at which the franchise has ever taken a receiver – they certainly expect Vincent Jackson-type numbers in the future, but he doesn't necessarily have to produce at that level in 2014 to help the offense quite a bit.
Austin Seferian-Jenkins (you were very close, Leo…and let's just call him ASJ for the rest of this mailbag) has indeed been getting a lot of positive press of late.  I was far from the only one to note earlier this week that ASJ's number of snaps with the first-team unit has been on the rise.  Maybe he'll even get some of those in the Bucs' second preseason game on Saturday after primarily playing in the second half in Jacksonville.
Again, though, the Buccaneers don't need huge numbers from ASJ in order to get better output from the tight ends in 2014.  They brought in veteran Brandon Myers, who is essentially a 50 to 60-catch guy who blocks well enough to be on the field for as many snaps as the Buccaneers need.  Tim Wright, the converted receiver, not only has a season as a tight end under his belt now but also a full offseason to improve his blocking; he was a major find last year and could be more of a complete player in 2014.  I know the coaching staff was impressed by him during the offseason program.
As I've said before, I'm not sure how important it is which of these guys is considered the "starter" at tight end once the 53-man roster is set.  I think Jeff Tedford is probably devising different packages of plays for various combinations of those three.  Since ASJ is also looking quite competent as a blocker, you could conceivably put two-TE sets on the field with Wright joining either Myers or the rookie.  Or, of course, you could have Myers and ASJ on the field at the same time and really give opposing offenses something to think about.  When your tight ends are good blockers and good pass-catchers, it really adds to the subterfuge regarding what they're going to do when they're on the field.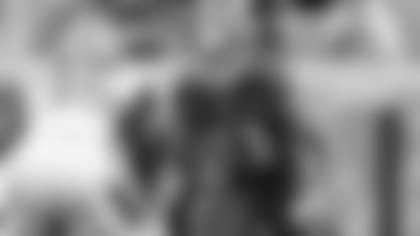 WR Mike Evans doesn't have to be the Bucs' #1 target in 2014 with WR Vincent Jackson still at the top of his game
As for Sims, not only was he drafted almost specifically to play a complementary role, but that running back depth you alluded to with Bobby Rainey and Mike James behind Doug Martin provides a really good safety net.  Sims' well-developed pass-catching skills make him a good bet to figure into the offense from Day One, but Martin, Rainey and James have all been working on their receiving skills as well.  The Bucs will have options in the unlikely event that Sims is not quite ready to contribute early in his rookie season.
I think it's reasonable to hope that at least one of those three rookies – Evans, Seferian-Jenkins and Sims – will prove to be a major weapon right away as a rookie.  It's probably greedy to expect all three of them to do so, but that's okay.  If they can contribute in complementary roles and the veteran trio of Jackson, Martin and Myers hit some very reasonable expectations then, yes, the offense will be as good as many people are anticipating, Leo.
Can I go with "none of the above?"
Of the three options you gave me, I guess I'd go with "too early to tell."  Every preseason is the same – we all go into it knowing that the outcomes of these games mean almost nothing, and then the first game arrives and it's really good or really bad and we read way too much into it. I am most definitely including myself in that "we."  It's hard to watch your team in action, see something go poorly and not get a little worried.
I didn't enjoy much of that game on Friday night, but then I took a step back and remembered how little it mattered.  Remember those poor Detroit Lions of 2008 who went 0-16?  Yeah, they were 4-0 in the preseason that year.  In a six-year period from 2005-2010, the Indianapolis Colts went 75-21 during the regular season…and 4-22 in the preseason.  It's almost as if there's no correlation between success during the preseason and how a team fares when the games count.
Now, I'm guessing that you're actually talking more about the way that game unfolded than whether the Bucs won or lost.  Specifically, the offense never really got off the ground, and certainly not while the starting unit was on the field for the first quarter.  That's a more concrete concern but, again, I don't think it really told us very much.  As both Lovie Smith and Evan Dietrich-Smith have since pointed out, the Bucs were using the bare minimum of their playbook.  Everything's vanilla and pretty easy to figure out in the preseason – especially the first game – and that's true for both teams.  I'm sure the Jaguars didn't game plan for the Bucs any more than the Bucs game planned for the Jags.  With 80 or so players getting into the game for each team, the final score could have easily been a three-touchdown victory for either squad.  Those '08 Lions didn't just win all their August games, they did it by a combined score of 80-32.  They were blowing people out of the water.
This is just my opinion, but I only took two things away from that Jacksonville game that I think tell us anything about how the team is doing right now.  One was bad and one was good.  First, the offensive line is a legitimate concern, at least until the two guard spots are determined.  I think the team will end up with at least competent play at those two positions when it's all said and done, and that in turn will give the team a much better offensive line than it had last year, thanks to very good players at LT, RT and C.  But I'm not going to bury my head in the sand, either.  It's a problem right now and if that problem persists into the regular season then we might have something to worry about.
Second, I thought the defensive line looked deep and dangerous, and I don't think that was a mirage.  Gerald McCoy appears ready to dominate, even more than last year, and judging from the play of a second unit that included William Gholston, Da'Quan Bowers and Steven Means, the seven-man game-day rotation should be able to keep the heat on opposing offenses for 60 minutes.
You start your question with the phrase "early bucs hype," and that obviously has a negative connotation.  Like we all got too excited by the arrivals of Lovie Smith and Jason Licht and Michael Johnson and Josh McCown, etc., and raised our expectations too high before the team actually got on the field.  But that was somewhat inevitable, wasn't it?  New coach, dramatic free agency maneuvers, a draft littered with new offensive toys (see above).  Pretty hard for even pragmatic Bucs fans not to get excited by all of that.  But I'm sure Lovie Smith would be the first one to say, 'Hey, we have to prove it first, and we're not there yet.'
I'd say if you bought into that hype, enjoy it, and don't get too concerned about one game, especially an early-August preseason game.  They honestly don't mean much, except as a stepping stone towards the ultimate goal of the Carolina Panthers on September 7.  Back to your three choices, I would say "reality check" is too strongly negative and "learning curve on the road to glory," sounds like more hype.  Give me "too soon to tell" and ask me again in about three weeks.
Honestly, Guillermo, I think we would have seen a little bit of that by now if that was going to be a serious consideration. So far, Pamphile has just taken snaps at tackle.
Think about this: While the Bucs are obviously set and quite strong at the two starting tackle spots, Anthony Collins coming aboard to man the left side and Demar Dotson becoming one of the NFL's better RTs, the team still has to determine who its designated third tackle is going to be.  As I discussed in last week's mailbag, history suggests that the team will keep either eight or nine offensive linemen on the 53-man roster, and at most two of those will be backup offensive tackles.  Often, a team keeps just one player who is specifically considered the backup tackle.
On game day, the Bucs will keep seven offensive linemen active, including the five starters and one reserve each for the interior line and the edges.  That means, on game day, there are only three tackles active.  The Bucs absolutely must decide which player they are most comfortable with as that third tackle because he will be one injury away from providing Josh McCown with vital protection.
Pamphile is solidly in that competition.  He's listed as the second left tackle on the depth chart while undrafted rookie Matt Patchan is second at right tackle.  After those two, the only other player on the depth chart at either tackle spot is J.B. Shugarts, a former undrafted free agent who has so far only seen regular-season work on various practice squads.
Thus, my thinking is that the Buccaneers are seriously considering Pamphile as that reserve swing tackle on game days.  If so, than they need to get him as much work there as possible, and not split his time or his focus on two different jobs.
Don't take my word for it, Guillermo.  After I read your question, I got a minute alone with Lovie Smith today and asked him about that swing tackle job.  I simply asked him about the position without throwing out any specific names.  This is what he said:
"We have a couple of options, and of course Kevin Pamphile is one of them.  We brought here with the vision that he would play ball for us someday.  And we have Jamon Meredith, so I feel like we have a couple good options of some guys that can possibly compete for that role.  We'll dress seven guys and we'll have one swing tackle that needs to be able to do both, and both of those guys can do it."
Click here to WATCH the Bucs vs. Dolphins Game LIVE Online via NFL Pre-Season LIVE!