STORY HIGHLIGHTS
Undrafted free agents get the same opportunities as their teammates but sometimes work in relative anonymity
If the Bucs tried to keep four tight ends and a fullback it would impact depth elsewhere on the team
Friday's Night Practice at Raymond James Stadium will feature fun competitions among the players

Each week, Senior Writer/Editor Scott Smith will dip into the inbox to answer questions from  Buccaneer fans.  This week's topics include the undrafted free agents on the roster and whether they have been toiling in relative anonymity, as well as the possibility of the Bucs keeping a fullback and four tight ends.  Also we've got some good news about Friday's Night Practice at Raymond James Stadium.
Fans can submit questions for upcoming mailbags via Twitter to @ScottSBucs (#BucsMailbag), through a message on the Buccaneers Official Facebook Page or via email at **tbbsocial@buccaneers.nfl.com*.  The One Buc Mailbag runs every Thursday and is not necessarily meant to reflect the opinions of the team's management or coaching staff.*
Hello,
Not trying to downplay or talk bad about the drafted players for Tampa Bay, but it gets very boring reading about the same players that got drafted and how they're doing and not hearing much news about the performance of the undrafted players.  I understand that drafted players get more media time and more attention because of the money, but it would be interesting and different to hear about some undrafted players that are trying to make their mark.  Why don't they get some media time? Is it because they lack skills or they just didn't get the bigger money opportunity needed to get them noticed??
- Kandice via email to tbbsocial@buccaneers.nfl.com
Okay, I was laying on the sarcasm a little thick there, and I certainly don't expect you to go clicking through all those links.  Suffice it to say that they take you to stories, video interviews and tweets about the likes of Matt Patchan, Nate Askew, Patrick Omameh, Rashaan Melvin, Jorvorskie Lane, Demar Dotson, Dane Fletcher, Leonard Johnson, Solomon Patton, Andrew Miller, Jeff Demps, Danny Lansanah, Danny Gorrer, Quinton Pointer and Brandon Magee.  One thing all of those players have in common: They arrived in the NFL as undrafted free agents.
Now, I'm not going to pretend that one or two tweets about Brandon Magee means that we have given him the same sort of coverage as we have Mike Evans or Gerald McCoy.  I'm trying to demonstrate that, overall, we have taken to heart what Head Coach Lovie Smith has told his team: Once you're here in camp, you get the exact same opportunity to compete for a roster spot as everyone around you, whether you were a first-round pick or an undrafted free agent.
Realistically, of course, a much higher percentage of early-round picks make NFL rosters than do those from the undrafted ranks.  However, there are always some lesser-known names that crack the 53-man roster, every year, and sometimes they even evolve into starters or even bona fide stars.  Hall of Famers John Randle and Warren Moon, for instance, were originally undrafted signees.  Some of the most notable players in Buccaneer history who came in as undrafted rookies were Shelton Quarles, Earnest Graham, Karl Williams, Jeff Gooch and Clifton Smith.
I actually like what you're trying to do here, Kandice, so I'll just pretend you didn't use the phrase "very boring" in your opening sentence!  Your desire to bring more attention to those underdogs trying to take this first foothold in the NFL and make it stick is admirable.  Therefore, I hereby pledge that our next Insider interview (not the one that will air on Thursday) will be of an undrafted rookie on this year's roster.
You finish by asking why those guys don't get as much media time.  No, I don't think it's because they "lack skills" or "didn't get the bigger money opportunity."  I think it's because any given media outlet or beat writer can only present so many topics in a three-week span, and many of them are understandably excited about the stories presented by such big-name additions to the team as Evans, McCown, Austin Seferian-Jenkins, Michael Johnson and Anthony Collins.
See, while I hear what you are saying, Kandice, I think it's also true that many of our fans very much want to hear about the latest thing that Evans does or how good McCown looks so far or whether Mason Foster is adjusting to the new defense.  These are very important storylines that will greatly impact how the team does in 2014.  The chances are that Evans is going to produce more for the Buccaneers this fall than any of the undrafted free agents trying to make the team.
We'll search for some common ground, Kandice.  We'll bring you more updates on the lesser-known names on the roster, but we'll also keep telling the world about the latest red-zone exploits of Mike Evans and Vincent Jackson.  After all, I tweeted this on Wednesday…
Mike Evans and Vincent Jackson, on back-to-back plays, made stunning catches on EZ back-corner fades. Ridiculous red zone weapons. — Scott Smith (@ScottSBucs) July 30, 2014
…and it got an awful lot of favorites and re-tweets.
I don't think it's crazy, exactly, but it's awfully hard to make the numbers work.
No joke – I was having basically this exact conversation with one of our player personnel people while watching practice on Wednesday.  I presented a couple depth chart scenarios like the one you describe, and while he didn't shoot them down completely I could tell he was a little skeptical that it could all fit on the 53-man roster.
First, I'm going to assume that when you say "Lane Stocker 5 RBs," you mean Luke Stocker is a fourth keeper at tight end (along with Brandon Myers, Austin Seferian-Jenkins and Tim Wright), and that fullback Jorvorskie Lane joins a backfield that also includes Doug Martin, Mike James, Bobby Rainey, Charles Sims and Jeff Demps.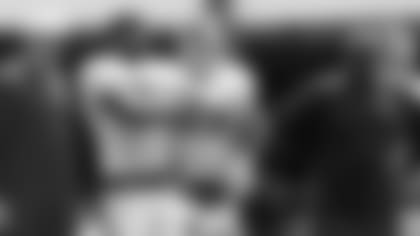 The Bucs have a deep group of tight end talent in camp this year and might consider keeping more of them on the 53-man roster than is the norm
In that scenario, you have kept four tight ends and six running backs.  I don't think you can keep any fewer than five receivers, although I do think that particular number is a real possibility.  That's especially true if no extra receivers are kept specifically for kick-return jobs (say, Eric Page) or other special teams prowess (Russell Shepard).  I tend to think of the combination of RB-WR-TE as a fixed number that Lovie Smith and his staff will be trying to hit; that is, if you keep an extra player at one of those positions you're going to have to lose on at another of those positions.  Keeping a fourth tight end might cost you a sixth receiver, for instance.
Your scenario calls for that number to be 15.  That's tough.  Tough, but not impossible.  I looked at the depth charts for the Buccaneers for the last 10 seasons and added up the numbers of receivers, running backs and tight ends on each one.  Now, as we all know, depth charts change over the course of the season, and that RB-WR-TE number can go up and down a bit.  To make things easier from a research standpoint, I looked at the end-of-season depth chart for each year.  The only problem with that approach is that sometimes – especially in seasons that are clearly not headed to the playoffs – teams stockpile a couple players at the end of the roster that they want to check out in more detail the next year.  Still, this should give us a pretty good idea of the typical numbers at that spot.
2013: 13
2012: 13
2011: 13
2010: 15*
2009: 16
2008: 14
2007: 15
2006: 14
2005: 15
2004: 15**
This is particularly noteworthy because back in 2010 the "inactive third QB" rule still applied on game day and most teams, including the Bucs, carried three quarterbacks.  These days, the majority of teams carry just two QBs on their active roster and put the third on the practice squad.  By the end of the season, the 2010 Buccaneers (who were in the playoff hunt) had 15 "skill-position" players on the depth chart and three quarterbacks.  That most notably impacted the depth on the offensive line (only eight total players instead of a more usual nine) and the secondary (nine combined corners and safeties, which is a little light).
** I highlight this team because not only did it hit the number 15, but it was in the exact configuration as suggested by Eric above: six running backs, four tight ends and five receivers.  That team had Michael Pittman and Mike Alstott as the core running backs (after the early-season injury to Charlie Garner), plus Earnest Graham in his first season on the active roster and a blocking fullback behind Alstott in Jameel Cook.  The fifth and sixth spots went to a little, fast, return-man type in Ian Smart and another big fullback in Greg Comella.  There are some parallels there with what the Bucs have on hand right now, although the current group is heavier on tailbacks than blockers.
So it's been three years since the Bucs ended the season with anything more than 13 players in the RB/WR/TE combo group.  However, at least 14 was the norm for the seven years before that, and it got as high as 16.  Hitting 15 wasn't uncommon.
Here's the thing, Eric: I believe that Smith and his staff already have an idea of exactly how many players they hope to keep at each position among the 53-man roster.  These numbers might even be written on a board somewhere upstairs at One Buccaneer Place, with the position-by-position candidates listed underneath.  Now, Smith isn't going to sacrifice a player who is too good to let go simply to hit every one of those numbers right on the hand.  Still, a player like Jorvorskie Lane is really going to have to prove that he brings something of significant value to the offense in order for the coaching staff to keep an extra back and lose a bit of depth at another position.
I've said a couple times this offseason that I could see a scenario in which the Buccaneers keep four tight ends.  My theory in those instances, however, was that they would do so if they didn't locate a fullback they wanted to keep, and that one or more of those tight ends could be used in an H-back type of role with some lead blocking and catching-passes-out-of-the-backfield responsibilities.  Your scenario has us keeping a fourth tight end and a fullback, not to mention the luxury of four tailbacks and a fifth specialty back in Jeff Demps.
It's possible.  If I was a betting man, however, I would bet against your scenario, Eric. Remember that we have to limit ourselves to five receivers just to keep the RB/WR/TE numbers at a high 15.  I think a sixth receiver is more likely, in which case you have to lose a tight end, a fullback, one of the four primary tailback candidates or the intriguing Demps.
Or I suppose we could keep all of that and just lose numbers at linebacker or defensive back.  Somehow, that doesn't sound like something Lovie Smith would do!
@scottsbucs Will Lovie be letting players do the same games at night practice this year like QBs hitting moving targets? #bucsmailbag — Andrew DeWitt (@AndrewRDeWitt) July 31, 2014
What, you think Coach Smith isn't a fun-loving guy?!  Of course we're still going to have those games!
For those unfamiliar with Night Practice, it's a very popular annual event during training camp in which the team conducts one of its field sessions at Raymond James Stadium in front of a huge crowd.  Fans enjoy free parking, free admittance, discounted concessions and a pre-practice autograph session with the whole team, so it's no surprise that this is the highlight of camp every year.  Read more about it here.
And yes, there are games on the field.  Or competitions, if you will.  The players seem to really enjoy them.  The coaches are fine with them, too, as long as the full amount of prescribed practice work also gets done, which it will.
The competition Andrew describes above is the "QB Challenge."  As in the past, the team's quarterbacks will compete to hit targets mounted on moving golf carts at various distances down the field.  The team's potential return man will get another crack at the "Jugs Machine Challenge," in which they try to see how many footballs they can catch and hold on to before dropping one.  And finally, placekickers Connor Barth and Patrick Murray will go head-to-head, this year attempting to see which one can make the most attempts as they progressively move farther away from the goal posts.
Furthermore, fan favorite Gene Deckerhoff, "The Voice of the Buccaneers," will be on the field throughout the evening helping to emcee not only those competitions but the rest of the activity during practice.  So come on out to the stadium on Friday night, Andrew, and bring some friends!