STORY HIGHLIGHTS
Would it make sense for the Buccaneers to make receiver one of their most pressing offseason needs on offense?
Khalil Mack is a common first-round prediction for the Bucs in the draft, but should fellow Buffalo alum Steven Means get a longer look?
The Bucs may have the core for another dominant D in place, but how do they measure up position by position with the last one?

Each week, Senior Writer/Editor Scott Smith will dip into the inbox to answer questions from  Buccaneer fans.  This week, Smith addresses such topics as the idea of adding talent at wide receiver this offseason, giving Steven Means a chance to develop and comparing the core of the Bucs' current defense to a great one from the past.
Fans can submit questions for upcoming mailbags via Twitter to @ScottSBucs (#BucsMailbag), through a message on the Buccaneers Official Facebook Page or via email at **tbbsocial@buccaneers.nfl.com*.  Following  this introductory edition, the One Buc Mailbag will run every Thursday, beginning this week.*
Although we do have questions at the QB position. Shouldn't we go after a WR in free agency or the draft to help out and take some pressure off the QB. Even though we're getting a healthy Mike Williams and Doug Martin back.
Side note: Sammy Watkins would fit in GREAT with our young offensive
- Courtney Haughton, Jr., via Facebook message
Preaching to the choir, Courtney.  I talked about this a little bit last week when I was asked about Mike Glennon and his status as the starter in 2014.  My argument was that Glennon showed some promise in his rookie season despite playing with an incomplete deck for much of the season.  Give him Mike Williams and Doug Martin back, and hopefully put him behind a healthier and more effective front line, and he should be able to prove one way or the other if he is the man for the job.
But I agree with you, Courtney.  Even with Mike Williams back and taking some attention away from Vincent Jackson, I think that position still needs another weapon to kick the passing game into a higher gear.  I'm not discounting the possibility that this weapon could come from the existing roster, perhaps Chris Owusu, but it wouldn't hurt to add a proven pass-catcher through free agency or a high-end prospect via the draft.
Of those two options, I think the draft is more likely.  This year's free agency pool is (potentially) led by such receivers as Eric Decker, Jeremy Maclin and Anquan Boldin, but those guys aren't going to come cheap.  (I say potentially because all of them, and especially Boldin, could re-sign with their 2013 teams before the market opens on March 11.)  The Bucs gave a big free agency contract to Jackson just two years ago and are likely to work the middle tier of free agency this year.  Perhaps that could bring a guy like James Jones or Golden Tate, but it only takes one team to see those players as elite to send their price tags through the roof.
Meanwhile, the draft is loaded with receivers who are likely to go in the first two rounds, starting with Watkins, of course.  The problem there, Courtney, is the good chance that Watkins will be off the board before the Buccaneers pick at #7.  New G.M. Jason Licht has said that the team is fully open to the ideas of trading up or down, but I would be surprised to see the Bucs move up from #7.  That's hard to do when you're already missing your third and sixth-round picks.
If Watkins is gone, Texas A&M's Mike Evans is likely to still be available, if he is deemed worthy of that high of a pick.  Otherwise, you can address another position at #7 and still likely to have a good group to choose from at #6 in the second round.  I talked about that last week, too, and suggested that the Bucs might be able to pick from a group including Penn State's Allen Robinson, Oregon State's Brandin Cooks, Fresno State's Davante Adams, Colorado's Paul Richardson and the LSU pair of Odell Beckham and Jarvis Landry.  Maybe Florida State's Kelvin Benjamin even slips into Round Two; I know that would make some combo Bucs/Noles fans happy.
Come to think of it, Courtney, the best approach may be to combine those two options: look for value on the free agency market – say, an Emmanuel Sanders or a Dexter McCluster, and extra points if that player happens to be a kick return option, too – and then see if the draft brings an opportunity to add a player who could be a big part of the offense for years to come.  The Bucs need to build depth at the receiver position, even with Mike Williams back and fully healthy.
I think I used the same line last week for a different question, but these two things don't have to be mutually exclusive.  Steven Means is sure to get a long look from the new coaching staff this spring and in training camp, but the overall pass-rush needs help either way.  It would be a strange coincidence to see the Bucs draft players from the University at Buffalo in two consecutive years (making that a totalof two picks from that school in Tampa Bay's four-decade history),  but the presence of Means doesn't rule out the arrival of Mack.
Last week, we ran a story including new Defensive Line Coach Joe Cullen's thoughts on the second-year possibilities of linemen and Akeem Spence, a pair of 2013 fourth-round picks.  I should point out that Means wasn't excluded from that story because he lacks the same breakout potential as his fellow 2013 draft mates (Means was selected in the fifth round); Cullen was simply responding to questions about the other two.
It's not really surprising to see a lower-round draft pick take a few years to find a place in the defensive rotation.  Players taken on the third day of the draft are often picked because they have one or two outstanding traits that give them a chance to develop as an NFL player – a tight end with great blocking skills, a cornerback without high-end speed but with quick feet, etc.  At 260 pounds, Means might have been seen as a bit small for the 4-3 defensive end position, but he made it onto team's draft boards because he showed decent speed and good change-of-direction skills.  It's almost certain that the Buccaneers drafted him with the notion that it would take him some time to develop.  That was somewhat true of Gholston, as well, but he came along perhaps a little more quickly than expected.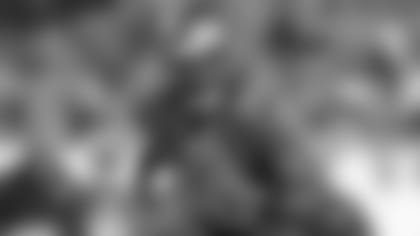 DE Steven Means will get a chance to carve out a larger role on the Bucs' defense in his second year
It would be naïve to say that these developmental projects always work, of course.  One that comes to mind that did work was Ellis Wyms, a sixth-round pick out of Mississippi State in 2001.  Wyms was bigger than Means but not as fast; he had strength and the versatility to play inside or outside.  Wyms only played four games in his rookie season, but most of it was at the end of the season, when he started to get some time in the rotation, much like Gholston this past year.  In 2002, he emerged as a valuable reserve, contributing 5.5 sacks to the league's #1 defense (not to mention a sack in the Super Bowl, which is definitely one of his career highlights).  Wyms would end up playing six seasons with the Bucs and one each with Seattle and Minnesota, and while he was never really a starter (eight games in 2006), he was a nice piece to the puzzle.
Means could become the same thing, and he might also prove to have value on special teams.  You can't assume that, of course, and there are plenty of third-day picks on the defensive line that have not panned out for the Bucs (Julian Jenkins, Greg Peterson, etc.).  I don't think any optimism the Bucs might have in Means (or Gholston for that matter) would keep them from taking another pass-rusher in the first round if the right one was available.
Is Mack the right one?  That may depend upon whether or not he can play the outside linebacker spot in a 4-3 defense.  He's generally viewed as more of a 3-4 pass-rusher, but some scouts give him more credit for his pass-coverage ability than others.  The Bucs are obviously not going to move Lavonte David out of his weakside spot, so Mack would have to play the strongside and – unlike what has normally been the case for the Buccaneers – stay on the field when the team went to the nickel package.  And, of course, Mack could be gone by pick #7.  Like you, I've seen a lot of drafts pairing the Bucs up with Mack, but there's a long way to go.  I'll put more credence in that thought when we get to April.
Coach Smith said that the foundation is in place to build another great Buccaneer defense around, which is great.  I'm sure he's talking mostly about Gerald McCoy, Lavonte David and Darrelle Revis.  How do you think this defense stacks up with the Super Bowl defense, going position by position?  Like, Gerald is the new Sapp, Lavonte is the new Brooks, et cetera.
- Mike, via email to tbbsocial@buccaneers.nfl.com
It doesn't stack up to that defense at all…not yet.  I'm not saying anything Gerald or Lavonte wouldn't say themselves; until the current crew has produced the same sorts of results as the Sapp-Brooks defense, they can't be considered in the same class.
But what you're asking me, of course, is about the current team's potential, and I think there's plenty of that.  And at the positions you mentioned, there are indeed special players in place, maybe players who will one day be the equal of two Hall of Famers (Sapp and Brooks) and one surefire Hall of Famer-to-be (Ronde Barber).  A position-by-position comparison?  Sure, why not, although for the current team that's going to involve a lot of speculation.
RDE: Simeon Rice and Adrian Clayborn.  Clayborn gets a tough draw here because Rice was one of the best pass-rushers of his generation and that rare player who you could pretty much pencil in for double-digit sacks every season.  Rice was at his peak during that 2002 season and he had a whopping 15.5 sacks that year, plus another 4.0 in the playoffs.  Clayborn showed his potential with 7.5 sacks as a rookie in 2011 (Rice had 12.5 sacks in his rookie season, but only 5.0 the next year) but hasn't hit double digits yet.  I'm actually pretty high on Clayborn and think he's going to be a very good already player, but it's not really fair to most pass-rushers to compare them to Rice at his prime.
DT: Warren Sapp and Gerald McCoy.  This is the position commonly referred to as "under tackle" or "three-technique."  Once again, it's not fair to compare a fourth-year player to his Hall of Fame predecessor, but there is clearly long-term star potential for McCoy.  He's been to the last two Pro Bowls and by some measures was the most productive defensive tackle in the game in 2013.  The Bucs are in great shape at this spot; McCoy doesn't have to be Sapp in order to be one of the most impactful players in the game.
NT: Chartric Darby and Akeem Spence.  There is actually a lot of similarity here.  Darby got the starting spot next to Sapp when Anthony McFarland went down at midseason and held up well.  His best tool – and this is true also of Spence – is a freakish amount of strength, allowing him to hold up at the point of attack despite being undersized for the position.  That didn't translate into a lot of sacks (Darby had 1.5 in 2002 and Spence had 1.0 as a rookie in 2013), but a strong nose tackle taking on double-teams can help the pass-rush in an indirect way.
LDE: Greg Spires and William Gholston.  We're going with Gholston because he overtook Daniel Te'o-Nesheim for the starting position at the very end of the season, and because Te'o-Nesheim is a pending unrestricted free agent.  Da'Quan Bowers could still emerge as a starter, or the Bucs might look for help in free agency or the draft.  Or Gholston could continue his development and prove to be a sturdy left end who makes occasional contributions to the pass-rush.  Spires was very steady for the Buccaneers for six years, underrated for much of that time, really, and he usually hovered around the four or five-sack mark per season, peaking at 8.0 in 2004.  I could see Gholston having a similar career.  I could also see the Bucs adding competition for the spot during the offseason.
SLB: Alshermond Singleton and Dekoda Watson.  Well, Watson was the starter for the first half of the season last year, and then again at the end of the year after Jonathan Casillas went down.  He was out with his own injury for the finale, and Adam Hayward started.  The problem here is that all three of those guys are pending unrestricted free agents.  Who's going to be re-signed, if any, and if so, is the starting job theirs?  Chances are, the Bucs can find a way to match up here pretty well.  Alshermond Singleton had a nice year in 2002, but that was his only season as a starter out of six in Tampa (he hit free agency right after the Super Bowl and wound up with a good deal in Dallas, where he started for parts of four season).  This position has changed hands frequently throughout the years in Tampa, and it is usually the one that sees the fewest snaps out of the three linebacker spots.
MLB: Shelton Quarles and Mason Foster.  Quarles probably had his best season in 2002, his first year in the middle after moving over from the strong side.  He made the Pro Bowl and racked up 159 tackles, just 11 less than Derrick Brooks.  Mason Foster hasn't made the Pro Bowl yet, but he has room to grow and has shown flashes of being a big-play maker.  Again, this is an exercise in comparing young players on the current team to those we know to be stars on the 2002 defense, so it's going to continue to be unfair, but I think Foster has a chance to give the Bucs' similar production to what they got from Quarles.
WLB: Derrick Brooks and Lavonte David.  McCoy is not Sapp and David is not Brooks, but this is another spot at which neither team could ask for much more.  I wouldn't predict that any third-year outside linebacker in the league right now will match Brooks' career, but I also wouldn't trade David for any of his current peers.  Last year, David became the first linebacker ever since sacks became an official stat to record at least six sacks and at least five interceptions in the same season.  That may be hard to top in 2014, but the Bucs obviously have an elite player at one of the most important positions in their defense.
LCB: Brian Kelly and Darrelle Revis.  This is one of the few spots at which we're not comparing a very young player with a potential Hall of Famer from the past.  Kelly may be one of the more underrated players in team history – it's hard to get a lot of credit playing on the same defense as Sapp, Brooks, Barber, John Lynch and Simeon Rice – and in 2002 he led the team with a career-high eight picks.  Kelly was very good, but Revis already has four more Pro Bowl appearances than his predecessor.  Revis was considered the best cornerback in the game before his 2012 knee injury, and he returned to his old form last year in his first season in Tampa.  Obviously, the Bucs are set here.
RCB: Ronde Barber vs. Johnthan Banks.  Poor Mr. Banks would have been better off if Barber played the left side, but alas, he's being compared with one of the greatest Buccaneers ever.  Barber was the master of the huge, game-changing play (Philly fans still flinch at the mention of his name) and he was also the ultimate iron man, never missing a game.  Banks looked promising in his rookie campaign and also had the usual first-year growing pains; we obviously cannot put him in Barber's league at this point, though.
SS: John Lynch and Mark Barron.  In terms of untapped potential, this might be the most promising spot on the Bucs' current defense.  The seventh overall pick in the 2012 draft, he has been a starter for his first two seasons in a league and has shown flashes of the big-hitter/big-play maker combination that made him such a star at Alabama.  He's got the size and the physical tools to be an intimidating force in the secondary, like Lynch was.  Well, in that mold, at least.  Lynch is considered one of the most ferocious hitters of his generation, and he was also very technically sound in his tackling, so that's setting the bar pretty high.  But the Bucs probably feel like they're set at this spot, too, and that they have a chance to be elite.
FS: Dexter Jackson and Dashon Goldson.  Jackson was the Super Bowl MVP and he had a good two-year run as the Bucs starter (plus another season in Tampa in 2005), but he was one of five different safeties who started next to Lynch from 1995-2003.  That was a good place to be.  Goldson has already won AP All-Pro and Pro Bowl honors, something not on Jackson's resume.  Goldson's first year in Tampa wasn't everything the team had hoped for due to a couple injuries plus a series of fines and an eventual suspension for illegal hits.  He can still have a long and impactful run in Tampa, however, and he has the potential to give the Bucs more from this spot than they've had in a long time.