STORY HIGHLIGHTS
Mark Barron could be a breakout star for the Bucs this year and his fellow safety, Dashon Goldson, won't be hurt by missed time
Given recent draft history, a potential trade back from #7 to the #14-16 range should net the Buccaneers a second-round pick
Would the Buccaneers be interested in DT Aaron Donald in the draft even with DT Gerald McCoy already in place?


Each week, Senior Writer/Editor Scott Smith will dip into the inbox to answer questions from  Buccaneer fans.  This week, with the draft now upon us, we discuss trade values, the defensive tackle position in general and Aaron Donald specifically, but we also touch on such non-draft topics as the player most likely to break out under a new staff, upcoming jersey availability in the team shop and Dashon Goldson's future.
Fans can submit questions for upcoming mailbags via Twitter to @ScottSBucs (#BucsMailbag), through a message on the Buccaneers Official Facebook Page or via email at **tbbsocial@buccaneers.nfl.com*.  The One Buc Mailbag runs every Thursday and is not necessarily meant to reflect the opinions of the team's management or coaching staff.*
A note from the author: I received a really strong – and much-appreciated – response on Twitter on Wednesday night.  For that reason, instead of the usual format, in which I answer about three or four questions at some length, I'm going to conduct a "speed round" this week.  More questions, quicker answers.  Let's get to it.  And, as always, please keep the questions coming...I'm willing to bet the activities of Thursday, Friday and Saturday will have a lot to do with what we're discussing a week from now.
*All of the questions below came from Twitter but I can still receive submissions from Facebook and via e-mail, as mentioned above.
*
@ScottSBucs what young player already on the team gains the most from this years change in coaching staff? Or has the best chance at (cont) — Blanco (@TheDrunknd) May 8, 2014
This comes from a Bucs' fan named Nick Ventetuelo…good question, Nick.
Let's cut the field in half right off the bat; I'm definitely going with somebody on defense.  Now, one could easily make an argument for somebody on the offensive side of the ball, with Jeff Tedford bringing in a whole new system, but I think we have a much better grasp on what the changes are going to be on defense.  That is, the new staff is purposely not giving out too many details of what Tedford's offense is going to look like while, conversely, we have years and years of Bears-based evidence of what Lovie Smith will want to do on defense.
Plus, there are a lot more intriguing candidates to choose from on that side of the ball.  The principal players on offense are Josh McCown, Vincent Jackson, Doug Martin, Anthony Collins, Brandon Myers, Evan Dietrich-Smith…not really up-and-coming young players that fit your question.  (Martin is young, obviously, but he already has a 1,926-yard season under his belt).  On defense, the choices are many, including CB Johnthan Banks, LB Mason Foster, S Mark Barron and a whole bunch of defensive ends.  Lavonte David is a young player, and he's almost certain to thrive in this defense in a Derrick Brooks-type role, but he's already an All-Pro player.  Same thoughts, essentially, on Gerald McCoy, though he's two years farther in.
I don't want to pick Banks because I think we still have to see how that cornerback rotation works out after the additions of Alterraun Verner and Mike Jenkins.  Those three are likely to be the ones who see most of the action, and Verner should be on the left side, but I could see the RCB-Nickel back combination going either way with Jenkins and Banks.  I also don't want to pick Foster until I see what kind of competition arises for the MIKE and SAM spots between him, Dane Fletcher and Jonathan Casillas.  It's also possible the Bucs invest a high pick in a linebacker on Thursday or Friday night.
The defensive ends I had in mind were fourth-year guys Adrian Clayborn and Da'Quan Bowers and second-year youngsters William Gholston and Steven Means.  I'm not gutsy enough to predict a Bowers breakout season, and while I personally expect a strong season from Clayborn his gains may be more incremental than of the "breakout" variety.
Gholston would be an intriguing pick, but I'm going to go with Mark Barron.  I don't think his playing time is in any jeopardy, even with the signing of Major Wright, and don't forget this was the seventh player picked in the entire draft two years ago.  Barron was thought to be a future Pro Bowler when he was coming out of Alabama – the type of safety who can deliver both hard hits and big plays in the passing game – and I think he still has that feel after two solid seasons.  The light could be about to go on for Barron in a big way.
In trying to restore the defense to its former greatness – and using a similar base scheme – the Bucs already have their Brooks tape in David and their Warren Sapp type in McCoy.  Barron will at least have the opportunity to be the John Lynch type that made that championship defense so ridiculously strong up the middle.  The key for Barron will be his play recognition.
No, the Bucs won't be in a Cover Two all the time.  Even teams that willingly identify as a Cover Two defense – as Smith does – mix it up quite a bit depending upon the situation.  I've heard Coach Smith estimate that a Cover Two look would be the call on about 30-40% of plays.  In such instances, Barron will start about 15 yards off the ball and – if he wants to be the type of in-the-box hitter and centerfield playmaker that Lynch was – he'll need to make a quick read on whether the play is a run or a pass.  On runs, he'll be asked to get downhill quickly, fill a specific gap and make a sure tackle – a John Lynch specialty.  On passes, he'll usually stay over the top of the receiver, getting interceptions when passes are tipped or overthrown (more likely if the team has better pressure on the quarterback this year) and otherwise closing quickly on the pass-catcher on underneath routes.  In that case, you hope to time the hit well enough to dislodge the ball from the receiver, but at the very least you'll limit the damage on a short catch.
If you rewind to scouting reports from two years ago, one of the positives in many of the write-ups on Barron was that he reads routes well.  He was also a two-year team captain at 'Bama, and team captains usually know what is going on.  If Barron grasps his responsibilities in the Bucs' new defense and becomes a master of offensive recognition, he could quickly blossom into a star.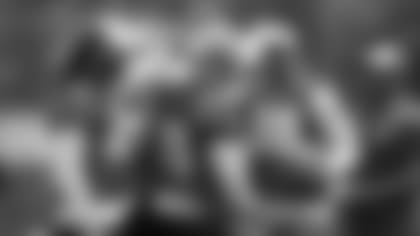 There's a good chance that safety will emerge as a position of strength for the Buccaneers in Lovie Smith's defense
Full disclosure: As I was finishing this answer (which wasn't quite as short as I promised up top, by the way!), I got the feeling I had written something similar before.  Yep – a somewhat similar question back in a February mailbag got the same answer from me.  Does that make me redundant or unimaginative?  I prefer to think that I have conviction in my beliefs, which haven't wavered in two-plus months. (/spin)
As you might be able to tell from his wording, Mark originally asked me this question a while back. I got back to him and asked him to hold tight for a few weeks, because this is what they call "a developing situation" and I thought I could give him a clearer answer with a little more time.  And I can, but probably not as specific of an answer as Mark would prefer.
First, let me make it clear what Mark is talking about.  There will eventually be three types of jerseys at three price levels available on the team store here on Buccaneers.com: Game, Limited and Elite.  As you go up the price levels, the jerseys are more and more like the actual ones worn by Buccaneer players, and that's obviously what Mark is after.  He even uses the term "elite," which means he already knew what I was talking about.
At this point, there are Game and Limited jerseys available in the shop, though the Limited options are still, well, limited at this point to Vincent Jackson and Doug Martin varieties.  The Elite jerseys have not yet arrived.  I cannot give you an exact date or date range in which that will happen, Mark, but I can tell you that they will definitely be available this summer, before training camp.  Eventually, you'll have a selection of key players as well as the option to customize a jersey with any name.
So if your main goal is to make sure your jerseyed-up before the season starts, that's not going to be a problem.
@ScottSBucs If we trade back between 14-16 what kind of picks could we receive, And what kind of value do you see left with our needs? — Brandon Holloway (@Gridiorn_Addict) May 8, 2014
Well, we can start with the NFL trade value chart, which I discussed at some length in last week's mailbag.  There's the classic one, developed by Jimmy Johnson's Cowboys in the early '90s; you can look at a copy of it here, but as I mentioned last week, it has fallen out of favor by a lot of football analysts.  I still think it's used to some extent by NFL teams, so we can't completely dismiss it, but it might also be worth looking at the one developed by the Harvard Sports Analysis Collective a couple years ago.
You say in the 14-16 pick range, so let's go with pick #15 to make this more precise.  By the original chart, there's a difference of value of 450 points between pick #7 and pick #15.  On that same chart, the 45th overall pick, which is 13 spots into the second round, is worth 450 points.  So by this chart the Bucs should ask for a second  to move down that far.  On the Harvard chart, the difference between the two picks is 64.7 points, which is equal value to a mid-fifth rounder.  I don't particularly like that answer, and since I don't think two teams are going to go into trade talks armed with this particular chart, I'm not too worried about it.  However, I could see the argument that the second chart – which is based on actual research into former players' values and where they were drafted – indicates that the first one is overvaluing the earlier picks, and that a second might be too steep.  Thus, I wouldn't be surprised if the compensation was instead a third-round pick.
Probably the better way to look at this, however, is to find analogous trades from previous drafts and see what the compensation was then.  Here are some recent ones of note that are pretty close to the 7-15 move we're talking about:
In 2013, Buffalo traded down eight spots with St. Louis, from #8 to #16, and got a second-round pick (#46) and a seventh-round pick.  The two teams also swapped third-rounders, with Buffalo moving down seven spots, a little something extra I'm guessing the Rams insisted upon to close that deal.
In 2012, St. Louis traded down eight spots with Dallas, from #6 to #14, and got a second-round pick - #45 exactly, in fact.
In 2011, Washington traded down six spots with Jacksonville, from #10 to #16, and got a second-round pick (#49).
That last one is interesting because it was a shorter move than what we're talking about, and from a lower pick, and yet the Redskins still got a second-round pick.  That sure seems like the going price to me for such a move, and I'd personally be pretty pumped if the Bucs pull off such a deal on Thursday night.
That's because my answer to the second half of your question – what value will still be there in the 14-16 range, given the Bucs' needs – is "a whole heck of a lot."  Seriously, this draft is loaded, and that's particularly true at receiver, where Tampa Bay has an obvious need.  You'd probably be out of the range of the top three or four offensive linemen, but there would still be plenty of those left, as well, and maybe some less costly prospects that better fit the Bucs' interior needs anyway.  Some think the Bucs would be interested in adding a linebacker, and this might be right where Alabama's C.J. Mosley goes.  And if you believe the Bucs are interested in investing in a quarterback of the future, I would suspect that at least two of the Bortles-Bridgewater-Carr trio will still be available at those spots.
@ScottSBucs I think we should see what's available but trade down if nothing elite is there. Get Xtra picks. Go DT to help or McCoy — Joseph A Perez (@Roobydoo33) May 8, 2014
Joseph first asked me if I thought we should stay put at #7, trade up or trade down, but I felt like we covered that ground pretty thoroughly last week.  There are also some additional thoughts on that matter in our written roundtable with Bucs bloggers here and our draft preview video with T.J. Rives and Anthony Becht here (Part 1) and here (Part 2).  So I asked Joseph instead to give me a more specific idea of what he thought we should do and that I would then respond to that.
So what you see above was his idea – and keep in mind that most of you out there have seen enough draft coverage by now (and probably watched enough college football last year) to be able to put together scenarios that are just as plausible as something Mike Mayock might come up with.  I'd say this one is a pretty decent idea, in fact.
Yes, in most cases, teams wait until they are on the clock and they know exactly what they are passing up on before they pull the trigger on a deal.  Phone calls are made before you're on the clock, of course, because you want to know if you have any possible trade partners and you want to start getting a basic structure of the deal in place.  If I'm reading you right, Joseph, I think you're saying that there are a couple players that would make you want to stay put – maybe Sammy Watkins (doubtful), Khalil Mack (pretty doubtful) or Mike Evans (quite possible) – but if they're gone you'd rather move back than use #7 on  player not deemed worth that spot.
I think I've clipped the following quote out of last week's pre-draft press conference once already, and I want to be careful not to read too much into it, but this is part of what Jason Licht said when asked about the idea of acquiring extra picks in a very deep draft:
"That's definitely something that we would look into and we've already reached out to teams and if our player isn't there we would be open to conversations in moving back and picking up picks."
You see what I mean?  I may be reading too much into the specific wording, but that sounds like a team that has targeted a specific player they think could be there at #7, but not necessarily.  So a trade back seems quite possible.
You say defensive tackle.  I don't think you can move back too far and have much confidence that the top-rated player at that spot, Aaron Donald, will still be on the board.  However, some scouts are pretty high on Florida State's Timmy Jernigan, Minnesota's Ra'Shede Hagemen and Notre Dame's Louis Nix.  None are considered as consistently dominant or as much of a sure thing as Donald (as if there was such a thing as a sure thing), but if you liked all three to some degree you could actually trade back pretty far.
The thing is, Joseph, the Bucs already went out and got some help for McCoy in free agency with former Seahawk Clinton McDonald, and they still have last year's starter at the nose, Akeem Spence, on hand.  If you're talking about an elite prospect like Donald, then I understand the move, but farther back I think you'd be better served addressing a position of more obvious need.
Aaaaand, speaking of Aaron Donald…let's do just that.
First, let me ask you a seemingly unrelated question, JRags: Do you know who the Green Bay Packers' leading rusher was in 1988?  I'm going to assume you don't (I didn't, before looking it up) and give you the answer: Brent Fullwood, a fullback who had 483 yards.  Green Bay got 15 starts from three tailbacks named Keith Woodside, Paul Ott Carruth and Larry Mason, and if you've never heard of those three guys that makes two of us.
What's the point?  Well, the Packers were picking second in that draft and the Lions were picking third.  The Cowboys started the draft by taking Troy Aikman, an eventual Hall of Fame quarterback.  The Packers went second and selected Tony Mandarich, the legendary SI cover man-turned-bust.  (He was a little less of a bust than most people recall, starting 63 career games, but certainly no star.)  The Lions went third and picked Oklahoma State running back Barry Sanders, and in my imagination they actually sprinted to the podium to turn the card in.
My point isn't too belittle the Packers, who took a player that just about everybody was very high on, and presumably they considered tackle a bigger need than running back.  But I'm willing to bet that it only took a few years for the Packers to secretly wish they had gone with Sanders, no matter who they already had in their backfield.  At some point, if your rating of a player is high enough, that has to supersede need, because it's impossible to predict with great certainty where your needs are going to be one, two or three years down the road.  In fact, check out another quote from Jason Licht from that same press conference:
"I've said this before, but our team needs in September are going to be totally different than what our team needs are right now. The player you take you may not think we have a need for him now, but a lot of times you're thankful you have them when the season starts."
The Bucs are really glad they have Gerald McCoy.  If you could have two Gerald McCoys, you'd want that, wouldn't you?  You'd jump at the chance.  You might not choose two Gerald McCoys over one-Gerald-McCoy-plus-one-Calvin Johnson (talking about Sammy Watkins' potential) or one-Gerald-McCoy-plus-one-Von-Miller (Khalil Mack), but you'd be tempted.  My point is that if the Bucs have Aaron Donald rated highly enough, and if there isn't an equally-rated player at a position of more obvious need, the pick wouldn't surprise me at all.
And then you make it work.  For one thing, you figure out how to rotate the right amount with McCoy, McDonald and Donald to keep them all at the top of their games.  Maybe Donald plays some nose – he played nose tackle (and dominated) in a 3-4 defense as a junior, which is not exactly the same as a 4-3 nose but usually requires an even bigger player.  Donald himself has said that he has experience at every position – including defensive end – and he believes he can play any of them in the NFL.
I get your concern, JRags, I just don't think it would be enough to turn the Bucs away if they happen to be in love with the player.
I assume your concern arises from the recent report of a foot procedure Goldson had this offseason, which is expected to keep him off the practice field until training camp.  You list that issue, plus fines and salary, as potential red flags for his future with the team.  My response: I'm not particularly concerned about any of those things, particularly in the near future.
The Bucs are fully confident that Goldson will be back in practice when training camp starts, and they don't seem particularly concerned about the time he's missing now.  It's not optimal, of course, with a new system being installed, but Lovie Smith specifically mentioned Goldson and Barron (both of whom missed the mini-camp) as players who wouldn't be terribly affected by the missed time.  (He mentioned TE Luke Stocker, who missed one of the three mini-camp days, as a contrasting example, a player who could really use these offseason workouts to prove/establish himself.)  Goldson is a very smart player; he should have no problem absorbing the defense in camp and the preseason.  And he has not been a particularly injury-prone player, missing just two games over the four seasons before he signed with the Buccaneers.
The fines are more of a concern for Goldson's bottom line than the Buccaneers.  It does become a problem when they accumulate and turn into suspensions, but I don't think we're going to see much more of that.  While he might be something of a marked man, fair or not, Goldson has clearly acknowledged that some changes have to be made, as evidenced by his looking into the idea of working with a tackling coach this offseason.  Lovie Smith's staff will be sure to emphasize that issue as well.
And I assume you bring up the salary because Goldson got a big contract from the Bucs just last year, as did Darrelle Revis, who was subsequently released by the team's new management.  The thing is, those moves were made – Revis, Donald Penn, Davin Joseph, Jeremy Zuttah – during the flurry of free agency activity that reshaped the roster drastically.  This appears to be the team, with a few draft additions, the Bucs want to take into camp.
Another difference between those moves and a potential Goldson move is that the latter would carry with it a significant cap hit because his salary is guaranteed for this season, and a portion of next season's is guaranteed, too.  At this point, everyone understands that these big, five or six-year deals in free agency are not necessarily destined to run their course, and I don't say that specifically in regards to Goldson, just that he's in that category of contract.  Those kinds of contracts – unlike the one Revis had – have a certain amount of guaranteed dollars up front and then some years at the back that may eventually be re-evaluated.  Again, I'm not saying that's the plan with Goldson; personally I hope he's a Buccaneer for a long time.  I'm just saying that the structure of his contract is not something that should make you worry about his near future with the team, Cecelia.