Buccaneers defensive line coach Kacy Rodgers has earned some league-wide recognition following the Bucs' Super Bowl LV win after he was voted the John Teerlinck Defensive Line Coach of the Year for 2020.
The award is usually given out annually at the NFL Combine but with COVID-19 limitations, Joe Cullen of the Jacksonville Jaguars sent a video announcing Rodgers as this year's recipient on the first day of the 2021 NFL Draft. The award is named for John Teerlinck, who passed away last May, and is widely considered to be one of the best defensive line coaches in NFL history.
"It was a special season and just to be recognized by your peers, it makes that much more special," said Rodgers.
Rodgers led a defensive line that, in turn, led the way for a Buccaneer defense that finished first against the run, letting up an average of just 80.6 rushing yards per game and just 3.60 rushing yards per play throughout the 2020 regular season. In the Super Bowl, the line put on a dominant performance against a high-powered Kansas City Chiefs' offense that was held without a single touchdown, while allowing for three sacks of quarterback Patrick Mahomes and nine quarterback hits.
The defensive line was also a crucial component to a Tampa Bay pass rush that finished with the fourth-most sacks of any team in the league. Defensive tackles Will Gholston and Ndamukong Suh finished first and second on the team, respectively, in quarterback hits on the season and combined for 9.0 sacks.
Suh, in particular, had somewhat of a resurgence to his career in 2020, finishing with the most single-season sacks since he was with the Dolphins in 2015. He added 1.5 sacks in the Super Bowl, too. Gholston also matched a career high during the regular season, while being the Bucs' best run stopper. They're two players in a unit that was thrilled to see their coach get some much-deserved recognition after such a successful season.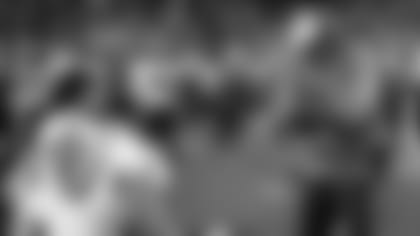 "For me to get texts from them and, really, I was thanking them," said Rodgers of his players. "I was honored with the award because of their hard work, so it was a kind of just a combination of one heck of a season from us winning the Super Bowl and getting a personal acknowledgement that just really made it special."
He then laughed, "It's all about them. It ain't about me. Nobody hit me."
Rodgers will be going into 2021 with that same group of players after the Bucs returned all 22 starters from that Super Bowl roster, including guys like Suh and defensive lineman Rakeem Nuñez-Roches, who were both free agents this offseason. The unit and defense as a whole took a big step forward last season from their first under Defensive Coordinator Todd Bowles, going from 15th in 2019 (up from 27th in 2018) to 6th in 2021. Now, with the line leading the way, the Bucs aren't resting on their laurels and will be gunning for the top spot.
"I think as a collective unit we can get a lot better," said Suh following his re-signing with the team last month. "We didn't finish as number one defense that needs to be our particular goal in totality."
Well now, Suh can be even more confident in the unit attaining that goal because they'll have the number one defensive line coach in the league leading the way.