I'm cheating a little bit on this one. The good news is, there were so many good things to happen that I couldn't exactly pick just one player to highlight. I could have done wide receiver Chris Godwin, who had a career day with 12 catches for 172 yards and two touchdowns. Fun fact: all 12 of his catches went for first downs and four were on third down, helping the Bucs extend drives. I could have also flashed plays of running back Ronald Jones, who had his best day as a Buc in his return to his collegiate field, save for a couple questionable penalty flags.
Instead, I decided to talk about the defense and the three interceptions they had in the game. Two of the three players who nabbed picks did it for the first time in their career. The other is a vested veteran that was overdue for an interception, if you ask me. It led to three bonus drives that the Bucs' offense capitalized on - scoring a franchise-best 55 points in their rout of the defending NFC Champion Los Angeles Rams in the Coliseum.
Let's see how these interceptions went down.
2nd Quarter, 3rd & 6 @ TB 30 (13:39)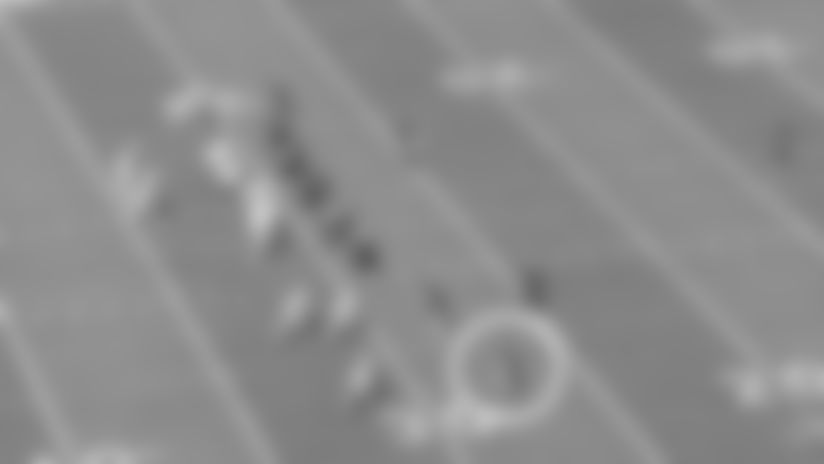 The Rams are showing trips to the right side with both wide receivers Cooper Kupp and Robert Woods stacked and tight end Gerald Everett wide on top of the numbers. Running back Todd Gurley is in the backfield flanking quarterback Jared Goff to the left as Goff is lined up in the shotgun. Wide receiver Brandin Cooks is the lone target to Goff's left side. Rookie Sean Murphy-Bunting, in for the currently injured Vernon Hargreaves, is the one on Cooks, as a result. Cornerbacks Carlton Davis and M.J. Stewart, along with safety Jordan Whitehead are manned up on the three receivers to Goff's right with rookie safety Mike Edwards deep. Inside linebacker Kevin Minter is the lone wolf underneath, spying the running back. Everyone else is on the line – from Goff's left to right it's inside linebacker Lavonte David, defensive tackles Ndamukong Suh and Rakeem Nunez-Roches, then outside linebackers Carl Nassib and Shaq Barrett rounding out the opposite side.
Upon the snap, David drops into coverage to take the underneath middle. It ends up being a four-man rush – and two blockers are expelled on both Suh and Nacho. As a result, Nassib tries to sneak around and get to the inside to shoot up the middle before the guard disengages from Nacho to slow Nassib up – but not before Nassib has gotten into Goff's view. Goff sidesteps to his right where Barrett has just one man to beat and already has, getting closer to Goff by the millisecond. He gets there just as Goff lets the ball go. David has been watching Goff's eyes this whole time and upon seeing his release of the ball to the right, takes off in that direction. David also sees that Everett has momentarily shaken off Whitehead, who slips as Everett runs around him. Whitehead recovers though, keeping his eyes on Goff and gets up to get in front of the pass and pick the ball off for his first career interception.
2nd Quarter, 3rd & 4 @ LA 31 (08:45)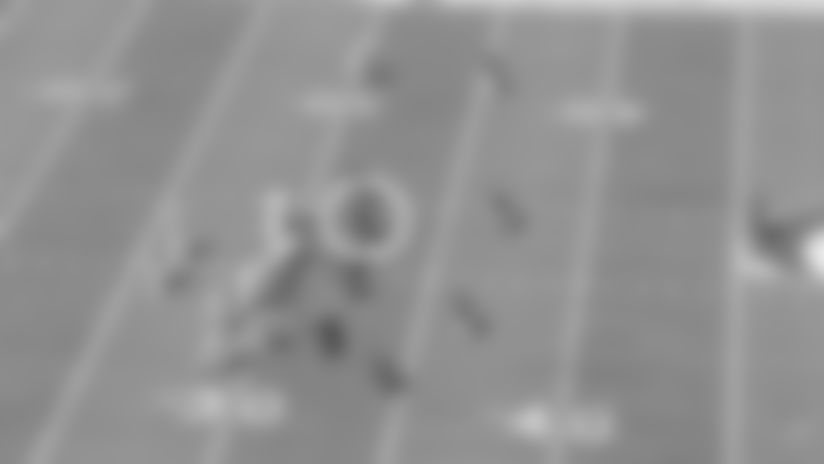 The Rams again have trips right, this time with an attached bunch formation. Goff is in the gun with Gurley on his right side, the same side as the three receivers. Everett motions wide on top of the numbers to Goff's left on his own and Stewart travels with him.
The Bucs have six men up on the line yet only two down linemen – Suh is head up on the nose guard, and rookie Anthony Nelson is in a wide 9 next to rookie cornerback Sean Murphy-Bunting who is covering the 2 receiver. He follows him pre-snap to the opposite side of the formation, leaving Hargreaves on the new 2 receiver. Davis is on the outside.
It's a four-man pressure again, with Barrett, David, Suh, Devante Bond and Anthony Nelson on the line of scrimmage. Both David and Bond drop, Whitehead comes down and takes up two blockers in his efforts to get to Goff, who David is watching the whole time. Goff absolutely stares down Everett and doesn't even seem to notice David on his own and unoccupied just waiting to pounce.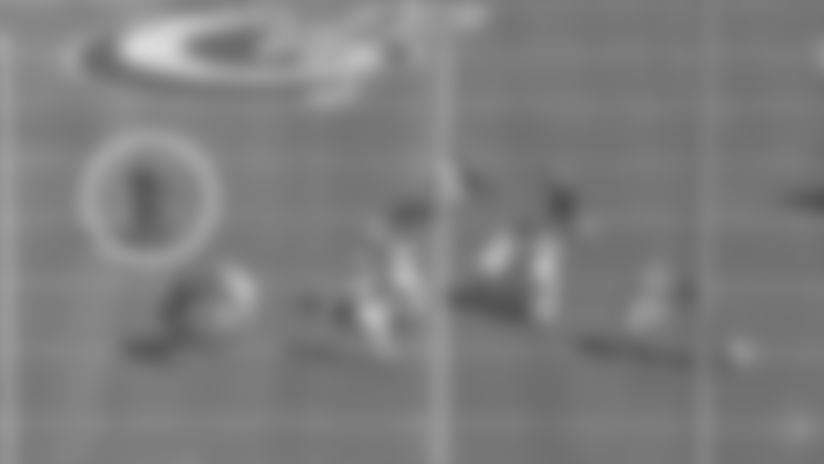 David back pedals to get to the spot of the throw and simply makes the catch. He almost gets it all the way back to the end zone, with the help of a good block by Barrett who has gotten all the way over to the far side, but doesn't quite make it. The Bucs punched it in on the next play with a nine-yard touchdown pass to wide receiver Chris Godwin.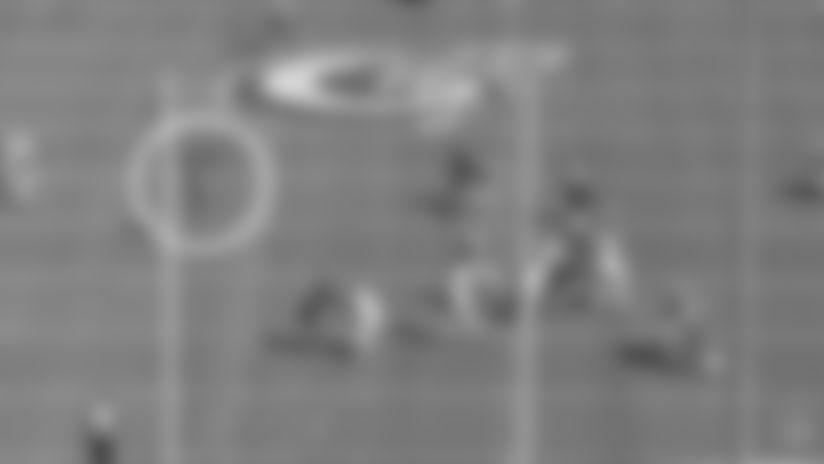 3rd Quarter, 4th & 2 @ TB 40 (2:54)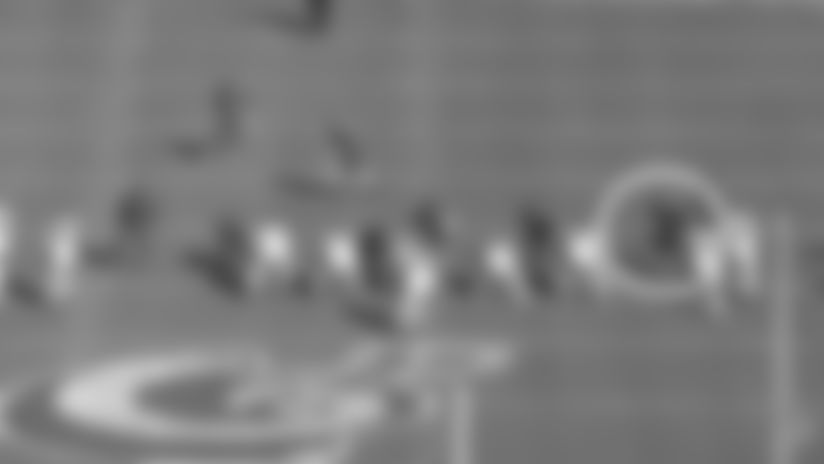 On fourth down, down by 11 points, Los Angeles has elected to go for it. They come out in an empty formation with running back Malcolm Brown is lined up as a receiver to Goff's right. In all, Goff has five options to throw to, with three receivers to his left, two of which are tight ends, and two to his right, including Brown.
Meanwhile, the Bucs have Suh, defensive tackle Vita Vea, Nassib and Shaq up on the line. David is offset outside Suh and inside linebacker Kevin Minter is aligned over the open A-gap. Before the snap, Minter starts his attack and comes screaming up the middle completely unblocked, thanks to Vea occupying the center and Nassib taking the guard. Minter times it perfectly, forcing Goff to get rid of the ball instantaneously.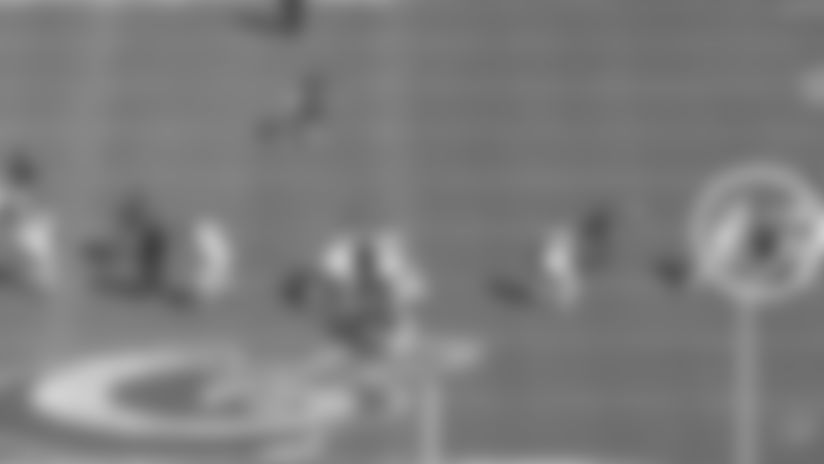 Goff elects for a short pass to Brown but Barrett's blocker has whiffed, failing to gain any sort of leverage as he tries to put Barrett further outside. It backfires as Barrett gets a hand on the ball instead to tip it up in the air and eventually come down with it for the interception – the first of his career.