Once upon a time, there was a small little town called Big Sandy. It was a quiet town with a population of 557 nestled in the backwoods of western Tennessee and along the waters of Kentucky Lake, with the Big Sandy Unit Tennessee National Wildlife Refuge nearby. That is where our story begins some years ago, with a boy named Tanner in the backyard throwing a football with his sister, Karlie.
"Actually, he would normally throw the ball too hard at me and knock me over," says Karlie today, as she stands in Nissan Stadium just two hours from that backyard, wearing a red number 88 jersey with 'HUDSON' emblazoned on the back. The sibling practice has seemingly payed off because Karlie snaps her head to the field, finding the boy she used to play catch with all that time ago now lining up for the opening kickoff of the Tampa Bay Buccaneers vs. Tennessee Titans game.
---
---
It's Tanner Hudson's first NFL game as an active player. As the team's fourth tight end, Tanner has gotten the short end of a numbers game that left him on the 53-man roster but inactive for each of the Bucs' prior six games. An unfortunate injury to O.J. Howard the past week had a silver lining for Tanner as he replaced O.J. on the active list, just in time for a true Tennessee homecoming.
"I think it's just great, especially that his active day is at home in Tennessee out of all the states it could have been in, this is the perfect place," says Tanner's mom, Karen Hudson, who is of course in attendance. "Like one of our friends said, you couldn't write it if it was in a story book any better."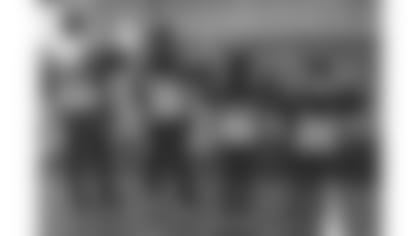 Karlie and Karen are two of dozens that have come to see their hometown kid play on the big stage. There are Tanner's cousins from Pennsylvania, who booked flights on two days' notice to be there. There are family friends, like Tracy Bivens, who hold a special place in Tanner's heart and played an integral role in his upbringing. You've heard it takes a village to raise a child – well, Tanner may have been raised by all 557 villagers of Big Sandy.
"It's kind of fun because everybody gets to share Tanner," Karen says. "We love sharing successes of any kid from our small town, so he loves the kids and he tries to encourage them in their sports but also in academics."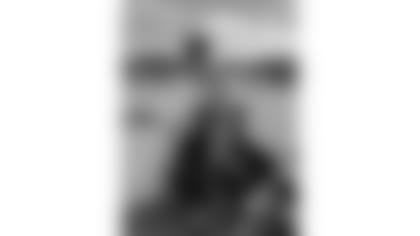 Just a few days prior during the Bucs' bye week, Tanner was back in Tennessee, spending time with a youth football team in Camden, where he played his high school ball. A career that almost wasn't if had it not been for a persistent friend.
"Our freshman year, Tanner did not want to play football," recalls Cody Hassell as he watches his childhood friend now playing football for a living. "No interest whatsoever. It took all summer to get him into it."
It wasn't until a school 'Lift-a-Thon' where the football players benched reps to raise money that Tanner got involved. Only, Tanner wasn't on the team yet. After raising a bunch of money during the fundraiser though, Tanner joined the team – as the kicker.
"He did amazing as a kicker," Cody says. "He didn't miss any his freshman year. His cousin James taught him everything he knew.
"He can just choose whatever position he wants. Even in high school, he wanted to play defense one day and he destroyed everyone on defense. They let him return a kickoff once, and he returned a kickoff. All in all, you can say that I talked him into playing but after that, it was all him and his athletic ability did everything for him."
Tanner would eventually settle on quarterback in high school, leading him to the University of Memphis before he made the switch to tight end – his current and (probably) final position. This preseason, especially, Tanner made a name for himself. In four games, he amassed 245 yards and scored three touchdowns, thanks in part to a laser-like connection with backup quarterback Ryan Griffin. The pair have a cult-like following, as a result. More on that later. But the 2018 preseason was actually Tanner's first trip home when the Bucs took on the Titans in Nashville following a week of joint practices. But a year can make a big difference, with Tanner now upgraded to the active roster from the practice squad and this time, getting to play in a regular season game.
"Even last year, him getting to play here was a dream come true but his first active game, I almost cry every time I talk about it," his girlfriend, Karley, says. "I'm just so excited for him and I know he's worked his butt off for this and I know there's no other place he'd want his first active game to be than here at Nissan Stadium in front of all his friends and family."
Karley lives in Nashville and is Tanner's biggest supporter on social media and in real life. She even had shirts made up paying homage to the Griffin-Hudson connection, which have made their way around the Bucs' locker room. Following the game on Sunday, Tanner gave her his jersey, a token of gratitude for the support she shows him, just as so many others that are in his corner from that tiny town of Big Sandy and beyond.
"There was a ton of people here from everywhere but just excitement, really," Tanner says of the support he receives from back home. "They all get riled up and it means the world to me. Any time I get down on myself or make a mistake, I know they always have my back just like my teammates here. I can always look to them and go to them if I need anything at all.
"Knowing it was possible once O.J. got hurt that I would be playing and then realizing it was in Nashville – you really couldn't script it better than that."
Indeed, sometimes things just fall so perfectly into place that the story practically writes itself.