Court was in session on Monday night as nine Buccaneers players, including Ali Marpet, Devin White and Earl Watford, participated in a mock trial with middle schoolers from Farnell Middle School at the Hillsborough County Courthouse in downtown Tampa. It was part of the Bucs Social Justice Initiative that aims to make a meaningful difference in the Tampa Bay community and support the larger, league-wide effort to address social justice issues.
By going through a mock trial based on an actual court case, players and students got to play various roles and get a firsthand understanding of the criminal justice system. There was the prosecution and defense, which included wide receiver Bryant Mitchell as the defendant, accused of aggravated battery in the shooting death of a teenager. There was a key witness in safety D'Cota Dixon and a grieving father brought to the stand, played by safety John Battle. There were even teaching moments provided by punter Bradley Pinion, long snapper Zach Triner and linebacker Devin White, who would provide clarification (and even some comic relief) during certain aspects of the proceedings.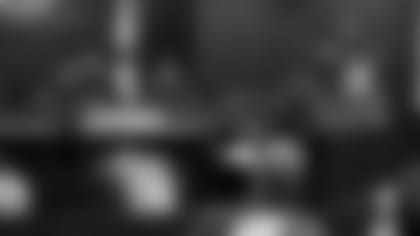 The selection of the particular case helped bring awareness to the issue of gun violence in the Tampa Bay community and was put on in partnership with Safe & Sound Hillsborough, a violence prevention initiative that aims to transform the way local policy makers address violence.
A jury of middle schoolers, led by guard Ali Marpet and backup quarterback Chad Kanoff decided Mitchell's fate after much deliberation and turned in their verdict to Judge (and offensive lineman) Earl Watford, who probably had the most work to do on the night. In the end, no verdict was reached and a mistrial was declared.
"[It was] kinda stressful," Watford admits. "I didn't know that much went into it. The judge had to pretty much speak the most and do everything – kind of coordinate how things are run. You have to be quick, know the law to a 'T' and every little thing that's said, you have to pay attention to. I was just blown away by it."
Watford was especially impressed with the kids in attendance and their knowledge, which they showed in their questioning and remarks throughout the case. The better understanding of the case, and the larger issue of gun violence, is what Watford hopes will make kids be more aware of their environment and be weary of potentially dangerous situations that could land them in a similar courtroom, or worse.
"It's important for kids to see our players taking an interest in them and using their platforms to further the tough conversations that need to be had in the community," Buccaneers Co-Owner and President of the Tampa Bay Buccaneers Foundation and Glazer Family Foundation Darcie Glazer Kassewitz said. "I think that is very impactful for the kids and it's something they can take away from the players much longer than the one day that they spend together."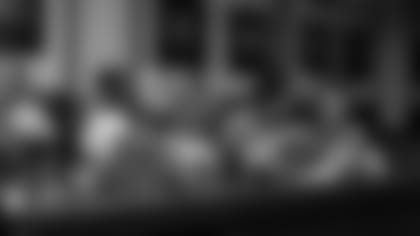 Battle, who played the victim's father in the case, shared in the closing question-and-answer segment that he had a three-year-old cousin die as a result of gun violence in real life, bringing the issue from a mock situation to reality. He knows the problem firsthand but is happy to be a part of creating solutions in the community these days.
"Growing up in the South Florida area, there was a lot of violence and inner-city things that I've seen and just to have an NFL organization helping to come up with a change and a solution to the problem is awesome," Battle said. "This is my second event with the team and I'm having a terrific time, enjoying the kids and helping better the community. "
"We're trying to let people know that what we do professionally, all these things, they affect us, too," Watford concluded. "To share our stories and be able to talk with everyone to let them know that we're all in this together and we're all fighting to make a change."
View pictures from the team's mock trial at the Hillsborough County Courthouse