It's not every day you get in a room with an NFL head coach. And it's not every day you get in a room full of other like-minded coaches. That was the message not only from Buccaneers Head Coach Bruce Arians on Thursday afternoon at the NFL's Coaches Academy, but also from members of his staff who spoke with up-and-coming coaches throughout the week.
The purpose of the Coaches Academy is opportunity for both college and NFL coaches to hone in on their skills, develop their coaching philosophies and network with colleagues. A total of 20 coaches were selected from a large applicant pool for the annual event held in Tampa, affording attendees the chance to hear from multiple Bucs staffers and other prominent figures in both NCAA and NFL football.
Not only was Arians the keynote speaker to help wrap up the week, members of his staff were also asked to speak on various topics throughout the week. Bucs Outside Linebackers Coach Larry Foote, Offensive Assistant Antwaan Randle El and Assistant Head Coach and Run Game Coordinator Harold Goodwin were all shuffled in and out of the Tampa hotel conference center to share their experiences. The one common thread between all of them? Networking.
"One of the big things I told them was the opportunity to meet other coaches in the room," Goodwin said. "Because as we sit in these rooms and meet people – or don't meet people – we're losing opportunities to expand our reach as far as people in the profession that may one day be coordinators and head coaches or even GMs. So, we have to make sure we do a better job of putting ourselves out there."
"It's relationships, I've learned in this league," Foote added. "It's a networking thing. For me, you have to get out of your comfort zone. You have to call people, you have to respond. You ain't the big star no more. You have to network and you have to be organic. When I say develop relationships, I don't mean call when you need a job. You have to develop relationships and that's a good thing.
"I told them to learn computers, too."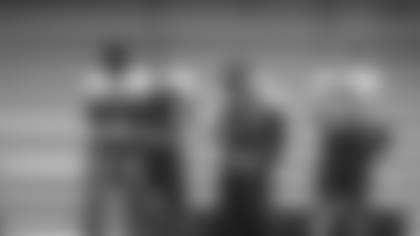 Technology aside, Foote spent 13 years in the NFL before he switched over to coaching, playing for Arians in both Pittsburgh and Arizona. His transition was atypical of most; he was given the opportunity to coach almost immediately after his playing career was over. But he realizes his journey is not the norm and attends coaching clinics and seminars regularly. Goodwin does the same, despite the fact that he boasts 16 years of league coaching experience.
"To me, the biggest thing is just hearing different perspectives," Goodwin said. "You may have gone through something that you don't think other people have gone through and you find out, hey, it's not just me. It's just being in a position to meet other people in the profession. And there's some great speakers out there."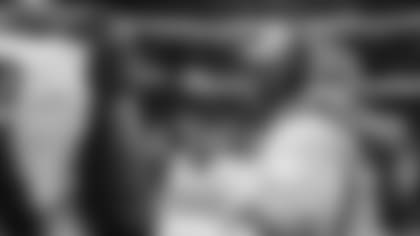 One of those speakers, of course, being Arians. The Bucs head coach brought it home with a simple anecdote. Had it not been for his network, Tampa Bay probably wouldn't even have BA – he would be on a boat in Georgia, still enjoying retirement.
"I'm fortunate," said Arians. "One of the reasons I got back into coaching is that my wife walked in and knew 18 wives. Guys that we started with in Arizona, they were all available. I probably wouldn't have gotten into coaching had they not been available. We're also coaching coaches."
And Arians continues to coach coaches, both on his staff and in clinics, like the NFL Coaches Academy.