In 43 NFL Drafts, the Tampa Bay Buccaneers have targeted the defensive line more than any other position in the first round. Tampa Bay's selection of Washington defensive tackle Vita Vea at pick number 12 overall a year ago marked the 11th time the team has sought to land a star player for its defensive front in the opening frame. And despite that very recent addition to the line, the Buccaneers could very well do the same thing in 2019.
The Bucs are certainly in a prime position to do just that. The pool of D-Line prospects in this year's draft is considered one of the deepest in decades, and Tampa Bay is virtually guaranteed to have a shot at one of them by virtue of holding the fifth-overall selection, should they be so inclined. In the final days leading up to the this year's draft, we are examining six positions in which the Buccaneers might reasonably be expected to have interest this year, three on offense and three on defense. We'll look at the available prospects, the Buccaneers' recent history of drafting at the position and the team's existing depth at that spot. At the end, Carmen Vitali and I will each suggest one good fit for the Buccaneers from this year's pool of prospects.
Here is the schedule of the positions we are analyzing in this six-part series:
Today we're focusing on the defensive line and edge rushers. The latter distinction is meant to include players who might be listed as linebackers but would primarily be pass-rushers in Tampa Bay's new 3-4 defensive front. The Buccaneers improved their sack total in 2019 to 38 from a league-low 22 the year before, but would still like to get more consistent pressure on opposing quarterbacks. That's a fairly universal desire across the league, and this year's draft is likely to be heavy on edge rushers and mobile defensive tackles early in the first round.
NOTE: All of the information and opinions offered below belong to the authors and are not meant to reflect the thoughts or strategies of General Manager Jason Licht, Head Coach Bruce Arians or any members of their respective staffs.
The first round of this year's draft is likely to be dominated by defensive linemen/edge rushers; in fact, it would be no surprise if roughly a third of the selections went in that direction. In this collection of six mock drafts on NFL.com, there are 14 different DL/Es mentioned by at least one analyst, with nine of them being consensus picks across all six lists. (DL/E is my nifty new abbreviation so I don't have to keep writing "defensive line/edge rushers.) There's also some rather divergent opinions on the order in which these players will go. While Ohio State DE Nick Bosa is the most common first pick at the position and Alabama DT Quinnen Williams and Kentucky edge Josh Allen are also frequently top-four predictions, all of that is far from certain. Take Houston DT Ed Oliver; in those aforementioned six drafts he goes as high as fourth and as low as 18th, with four other predictions in the 12-14 range.
Bosa, Williams and Allen seem like the most likely to be unavailable at pick number five, but it doesn't take much creativity to find scenarios in which they are still on the board when the Bucs go on the clock. Bosa and Allen will appeal to the teams that want a dynamic pass-rusher off the edge; the former is a possibly better version of his brother Joey Bose of the Chargers, who went third overall in 2016 and the latter is coming off a season of 17 sacks and five forced fumbles. Williams is the top-rated prospect overall on NFL.com and that rare asset every team is trying to find: a linemen who can generate significant pressure straight up the gut of the offense. Williams does that with very quick hands and feet and an explosive burst off the line.
There are plenty of consolation prizes for those that don't land those top three players, including Oliver, who was considered a candidate for the first-overall pick heading into the 2018 NCAA season. His scatter pattern on mock drafts is probably the product of a less-dominant junior season (which included a knee injury) and concerns about his size. At 6-2 and 287 pounds, he doesn't necessarily have the mass of most NFL defensive tackles, but Bowles would certainly find the right way to use his elite-level talents on the Bucs line if he's the pick.
Mississippi State's Montez Sweat blew the doors off the Combine and has seen his (mock) draft stock rise as a result. In fact, after LSU linebacker Devin White, he is the player most often connected with the Buccaneers at pick #5, particularly in mock drafts that have Bosa, Williams and Allen all going in the first four selections. Sweat has an incredible wing span and long strides that suggest he could have a very high ceiling as an edge rusher with the refinement of NFL coaching. Michigan DE Rashan Gary is another player whose name tends to be all over the mock-draft board…but always in the first round and sometimes in the top five. He ran a 4.58 40-yard dash at the Combine, which is remarkable for a 6-4, 287-pound man. Gary is fast and strong and quick off the ball but probably needs to add to his arsenal of pass-rush moves.
The other DL/Es who seem to be consensus first-round picks are the Clemson trio of end Clelin Ferrell and tackles Christian Wilkins and Dexter Lawrence. Other potential options on the edge include Florida State's Brian Burns and Louisiana Tech's Jaylon Ferguson. Ferguson may not have played against top competition but his talents and production could make him a first-round target similar to Texas-San Antonio's Marcus Davenport, who went in the middle of the first round last year. Notre Dame's Jerry Tillery could be a DT option for teams later in the first round, relevant if the Buccaneers end up trading down, and some analysts still have teams using high picks on Mississippi State DT Jeffery Simmons despite the torn ACL he suffered during a February workout.
Sheesh. You know it's gotta be a deep draft at the position if Scott writes a novel (rightfully so) on the first-round prospects alone. I'll try to keep it brief but the depth keeps going well into the later rounds.
Defensive tackle Khalen Saunders burst, or rather back-flipped, onto the scene at the Senior Bowl. Yes, the 6-foot, 324-pound lineman did a full-on round-off back-tuck on the field after practice in Mobile, showing just how incredible his athleticism is at his size. He did well against top-tier talent that he may not have been used to at Western Illinois but he's a little shallow on technique, which is why he's going to drop into the later rounds. His 6-foot-even size isn't ideal for an interior lineman, either, but from what I saw of him at the Senior Bowl and all that's being said on him, he's a player with raw talent that could be honed into a major disruptor.
I haven't heard a ton of talk about Missouri-product Terry Beckner Jr. but he looks to be a good bottom-round value at interior defensive lineman. He's got size at 6-foot-4, 296 pounds and playing in the SEC will get you some pretty great experience when trying to transition to the NFL. Scouts are down on him because of some knee issues but if he can maintain his health, he could end up being again, one of those disruptors that the Bucs prioritize.
Edge rusher Justin Hollins won the defensive MVP award of the East-West Shrine game. The Oregon-product is real long, standing 6-foot-5 and with his 4.5 40-yard dash speed could be a good fit in a 3-4 outside linebacker role. From that position in college, he recorded 14.5 tackles for loss in 2018 and led the Ducks with three forced fumbles. Given that the Bucs' defense will need more versatile players, Hollins could fit in well and would be a value pick with tremendous upside.
Louisiana Tech's Jaylon Ferguson has created some buzz around himself prior to the draft. I've even seen some mock drafts that include him in the first-round crop of talent but I think it's more likely he slips into the second. He is the FBS record-holder for career sacks with a whopping 45, but it comes with the caveat of playing within a smaller program by FBS standards. He's listed as an edge rusher and probably would be a good fit as a 4-3 defensive end but I could also see him becoming a major disruptor (yes, there's that word again) as a 3-4 interior lineman, getting pressure up the middle and potentially commanding double teams in the process. He's great against the run with 64 stops in his senior season alone and led the nation in sacks with 17.5. If it's pressure you want, it's pressure you're going to get with Ferguson.
If you're an NFL team and you say you couldn't use an edge rusher, you're lying. Quality pass rushers are hard to come by in this league and teams are always looking for talent to get to the quarterback. This draft is particularly deep in edge rushing and interior defensive line talent and with a new defensive scheme, the Bucs are no exception to wanting a piece of the pie. Whether that comes in the form of a defensive tackle on the interior or a pass rusher on the outside, that may depend on who ends up falling to the Bucs in the first round. Should they opt for another position with their fifth overall pick, I'd venture to say they take advantage of the aforementioned depth and take the best available prospect in the second round, which to reiterate, will be a very good player.
The switch to something that resembles more of a 3-4 defense instead of the previous 4-3 will require some tweaks along the defensive line, which makes the D-line depth of this draft come at a convenient time for the Bucs. However, the tweaks may not be as drastic as some expect. The Bucs' roster already carries edge rushing talent that will fit in nicely to the new system. Pass rushers include Jason Pierre-Paul, Carl Nassib and the potential for Noah Spence to return to a type of scheme he excelled in during college. On the interior, the team's 2018 first-round pick, Vita Vea, is also returning to something that more resembles his collegiate scheme. Vea was one of the best run-stopping nose tackles in college football in 2017 at the University of Washington. His nearly 350-pound frame combined with freakish explosiveness and agility makes him hard to contend with if you're an offensive lineman. More often than not, he's going to draw a double team lined up over center. It makes running lanes hard to come by. The Bucs also have space-eaters like Beau Allen and Gerald McCoy on the interior. Allen is another one known for stopping the run, while McCoy commands double teams because of how quickly he can penetrate the line if you even think about leaving him one-on-one.
However, with how little teams actually run their base packages, you'll end up seeing more even fronts regardless, as they're more conducive to nickel packages with five defensive backs. In those fronts, the emphasis is placed on speed and disruption and that can come from anywhere along the line. The moral of the story: get the best player available, whether that be a tackle or an end.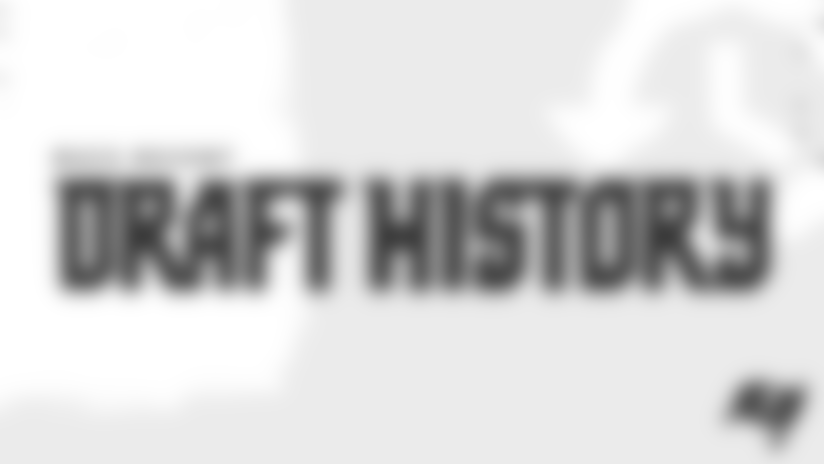 As noted above, the Buccaneers used a high pick on a defensive lineman very recently. After trading down from the seventh-overall spot to #12 a year ago, Tampa Bay landed Vea, the enormous defensive tackle from Washington with surprising agility. Vea's debut season was slowed considerably by a bad calf injury in training camp but he hit his stride in the second half and was probably the team's most consistently productive lineman down the stretch. The Bucs have high hopes for Vea, who could be the perfect anchor for the team's new 3-4 front.
Overall, however, the Buccaneers have not utilized a lot of draft assets on the defensive line over the past five seasons. The only other selection of note was that of Eastern Kentucky end Noah Spence early in the second round in 2016. Spence had a promising rookie campaign with 5.5 sacks but was slowed by a series of shoulder injuries during his first two years. He saw his playing time drop significantly last year but might get new life from the team's switch to the 3-4. Merely in terms of his size, Spence profiles more like a 3-4 OLB such as Denver star Von Miller.
The Buccaneers also used a seventh-round pick on USC defensive tackle Stevie Tu'ikolovatu in the hopes he could be a good run-stuffer in the NFL. The jury remains out on that because Tu'ikolovatu has spent his first two seasons on injured reserve, but he does remain on the roster heading into 2019.
That's it for the last five years. In contrast, the team used 10 picks on defensive linemen in the five drafts that proceeded the current management. Two of those players – Gerald McCoy and William Gholston – remain but the Bucs have otherwise filled in the gaps with veterans acquired via free agency, trade or the waiver wire.
Carmen Vitali: Quinnen Williams, Alabama
I'm cheating a little and offering a backup in case Williams is gone. I know we're supposed to pick a realistic prospect but there is a slightly significant chance Williams drops to five if another offensive player is taken in the top four. I'm not super confident in predicting what the Raiders will do with the first of their THREE first-round picks, so in the event that Williams is on the board because of something funky they do in the top five, I think the Bucs take him. He's touted as a generational player and it's not hard to see why. On tape, he's athletically gifted and had a standout Combine performance, running the 40-yard dash in 4.83 seconds at 6-3 and 303 pounds. More impressive than his physical attributes though, is his intelligence and how advanced he is for a college player. He has that very rare combination of athleticism and football IQ that separates good players from elite ones. He can and will be an immediate contributor as a rookie at the NFL level. Ask anyone who knows him and this guy has been a pro from very early on in his Alabama career. That type of maturity on the field is indispensable and one of those intangibles that shouldn't be ignored.
Should other teams feel the same way, it's unlikely Q makes it out of the first four picks. In that event, you probably use your fifth pick to take linebacker Devin White instead, or trade down, hoping to nab either White or Ed Oliver from Houston in the process.
Scott Smith: Josh Allen, Kentucky
I don't expect the Buccaneers to trade up and I don't think Nick Bosa will still be on the board at pick number five. Of course, that very well could be true of Allen, too, but it's not a fantasy to consider the possibility. If two non-defensive linemen go in the top four – most likely quarterbacks but potentially an offensive tackle, too – the Bucs would be in line to land one of that trio of Bosa, Allen or Williams. If Allen is indeed available, he would be difficult to pass up as the perfect fit at the edge-rushing outside linebacker in a 3-4 front. Pierre-Paul finally ended the Bucs' long drought without a 10-sack man but Allen would add an infusion of young talent to a line that hasn't had a home-grown edge-rushing star in a long time.
Story By: Scott Smith and Carmen Vitali