The 2019 NFL Draft will kick off at 8:00 p.m. ET on the evening of Thursday, April 25, which is notably less than a week away. The Tampa Bay Buccaneers are currently scheduled to pick fifth in the first round, which will take up all of Thursday night. The second and third rounds will be conducted in prime time on Friday night and the remaining four rounds will take place on Saturday. The Buccaneers head into draft weekend with a total of seven picks, one in each round.
In the final days leading up to the most important event on the NFL's offseason calendar, we are going to examine six positions at which the Buccaneers might reasonably be expected to focus on in this year's draft, three on offense and three on defense. We'll look at the available prospects, the Buccaneers' recent history of drafting at the position and the team's existing depth at that spot. At the end, Carmen Vitali and I will each suggest one good fit for the Buccaneers from this year's pool of prospects.
Here is the schedule of the positions we will examine over the next six days:
Today's focus: Running backs, where the Buccaneers' depth chart features a recent high draft pick and a 2019 free agency addition. The Buccaneers are seeking to improve a ground game that has not been particularly productive since 2015.
NOTE: All of the information and opinions offered below belong to the authors and are not meant to reflect the thoughts or strategies of General Manager Jason Licht, Head Coach Bruce Arians or any members of their respective staffs.
Unlike last year, the 2019 draft is not particularly top-heavy in running back prospects. A running back (Penn State's Saquon Barkley) claimed the second-overall pick in 2018, two others came off the board in the first round and a total of six were selected among the first 43 spots. The Buccaneers took part in that run, choosing USC's Ronald Jones with the first of their three second-round picks.
This year, there is only one running back who looks like a strong bet to be taken on the first night of the draft, and it would not be terribly shocking if the 2019 draft looked like those of 2013 and 2014, when no backs were selected in the first round. However, there is a decent amount of middle-round depth into which the Buccaneers could dip, which we'll look at below. If no running backs are drafted early this year, it will halt a trend, as at least one back has been taken in the top 10 each of the last four years.
That one running back with a good chance of hearing his name called next Thursday is Alabama's Josh Jacobs. Jacobs, in fact, was occasionally linked to the Buccaneers with the fifth overall pick in early mock drafts, though that idea has fallen out of favor over the last two months. Now, Jacobs is more commonly seen in the back third of the first round of mock drafts, if at all. That doesn't necessarily take him out of the equation for the Buccaneers, as they could entertain one or more trades down next Thursday night. Also, if Jacobs does fall out of the first round, he could become a possibility for Tampa Bay early in the second round.
The 5-10, 220-pound Jacobs is a somewhat unusual candidate to be the first running back off the board in that, unlike the recent backs to earn that honor, he was not a workhorse for his college team. Jacobs had a total of 299 touches over three seasons at Alabama; his predecessors the last three years – Ezekiel Elliott, Leonard Fournette and Barkley – averaged 650 touches in the same number of seasons. This is not necessarily a negative, as Jacobs' playing time was limited by a deep stable of 'Bama backs, not any deficiencies on his part. Some teams could even view that light college workload as favorable, given the relatively short average careers of running backs.
In another sense, Jacobs fits very well into the modern trend of NFL backs in that he can do it all. He ran a 4.52 40-yard dash at Alabama's second Pro Day, improving upon his somewhat disappointing 4.63 from the first one. He did not run at the Combine as he was recovering from a groin injury. Jacobs has a solid frame to go with his speed and can win with sharp cuts and power moves alike. He is also a fine pass-catcher out of the backfield and can get around the edge on stretch runs.
If there is another running back who can sneak into the first round next Thursday, it may be Jacobs' college teammate, Damien Harris. Harris averaged 5.8 yards per carry last year, scored nine touchdowns and also showed that he can help in the passing game. However, it's more likely we'll be discussing Harris in the next section.
There's value in waiting on a running back in the draft. That seems to be the case every year and 2019 is no exception. I want to talk about one running back in particular who may be the best value pick in this year's draft and that's Nebraska's Devine Ozigbo.
Never heard of him? You're not alone and I have a feeling there are plenty of NFL teams who are hoping it stays that way. He may be the biggest sleeper prospect among running backs this year given the lack of opportunities he's had to showcase himself this offseason. He was selected to the East-West Shrine Game here in St. Petersburg and during the week of practices stood out as a man among boys, if we're being honest. He's six-foot even but weighed in at his pro day at 233 pounds, physically setting himself apart. He was able to absolutely plow through tackles in the Shrine Game itself, not being able to showcase his physicality in practice as much. After the buzz he ended up creating for himself in scouting circles during that week, a last-minute invite to the Senior Bowl would have been almost expected. It didn't happen. Nor did he get an invitation to the NFL Combine and many were left scratching their heads as to why.
The production was there last year in college, albeit for a Nebraska program that struggled under the man tapped to be their football savior in Head Coach Scott Frost. But Ozigbo pushed through anyway, tallying 1,082 rushing yards on 155 carries and 12 touchdowns on the ground in 2018. He added another 203 yards through the air, giving him 1,285 yards from scrimmage last season, good for the fifth-best mark in the Big Ten.
He did well in pro day testing, running a 4.5 40-yard dash and leaping to a 37-inch vertical jump. NFL personnel staffs have likely wised up to this prospect so don't be surprised if you hear his name called in the later part of the second round.
Let's talk rounds down the line now and you'll find the likes of Texas A&M's Trayveon Williams and Temple's Ryquell Armstead. Both stood out at the Senior Bowl in their own respective ways. Armstead's physical style of running was impressive for a smaller-program product. Faced with some of the best talent in the country, he just refused to be denied, bouncing off blocks and shifting his weight around to get by defenders. Now, take that with a grain of salt given that it's practice for an all-star game but it's an extended job interview for these players and Armstead understood that. His experience on defense may have also helped out. Not only did he rush for 100 yards in a game last season as the Owls' starting tailback, he also recorded a sack in that game against Tulsa. He's not a two-way player, to be clear, and that was an anomaly for him, but he knows how to hit. He'll probably last until rounds five through seven given his lack of experience at a big-time program.
Williams came into the Senior Bowl following an Aggie campaign that saw him as one of the most productive running backs in school history. He earned All-SEC honors after rushing for 1,524 yards and 15 touchdowns during his junior season in 2018. He graduated early to enter the draft and the main knock on this guy will be his size. He stands at only 5-foot-9 but has certainly been able to overcome that on his collegiate production. It'll knock him into the later rounds of the draft, perhaps third or fourth, but his athleticism should give whichever team takes him some great value.
After comments made by Head Coach Bruce Arians and his staff, running back may be pretty low on the list of personnel priorities for the Bucs. Arians said that when evaluating his new team, the player that surprised him the most was, in fact, running back Peyton Barber, who the team just inked to a new deal that keeps him in Tampa Bay through the 2019 season. Arians has said he believes Barber can be that every-down back and just needs a chance in his new system.
The Bucs also signed veteran Andre Ellington, who is familiar with Bruce Arians' offense from his time in Arizona, and still have running backs Dare Ogunbowale and Shaun Wilson on the roster. Ogunbowale showed a lot of promise in the preseason last season but his work was limited in 2018, primarily being utilized on special teams. Arians has come out and said he thinks Ogunbowale could be the team's answer at kick returner but it remains to be seen how much impact he can have on the run game.
Then there's the case of Ronald Jones, the Bucs' second-round pick from the 2018 draft out of USC. Jones saw limited action last season and hasn't really given the staff enough to go on when evaluating him. At his best, Jones can be an athletic, pass-catching back if given the right opportunities. The verdict is still out, which makes me think that the Bucs won't prioritize any new back until they know for sure what they have in Rojo, especially.
Should the Buccaneers add to their running back stable, it will probably be in the later rounds where they can get some bang for their buck and perhaps stumble on a third-down back or more of a pass-catching hybrid as seems to be the trend these days.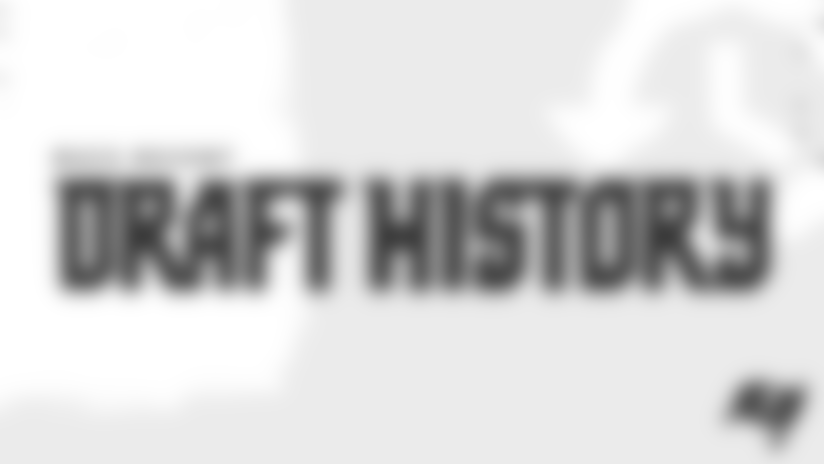 The Buccaneers have conducted five drafts since Jason Licht arrived as the team's new General Manager in 2014, and in that time they have spent either four or five picks on running backs, depending upon how one classifies former Northwestern standout Danny Vitale. The Buccaneers likely had an H-back-type of role in mind for Vitale when they selected him in 2016; he is now with the Green Bay Packers and listed as a fullback.
If one does count Vitale as a running back, the Buccaneers have drafted exactly one back in each of the last five seasons, though mostly with lower-round picks. The most productive of those (so far) was the first one, 2014 third-round selection Charles Sims. Though Sims struggled with injuries through much of his four years in Tampa, when he played in a full 16 games in 2015 and was heavily involved in the offense he produced 1,090 yards from scrimmage. As noted earlier, that was the last Bucs team to get top production out of its backfield, as both Sims and Doug Martin topped 1,000 yards.
Over the next three years the Buccaneers used a seventh-round pick on Hawaii fullback Joey Iosefa (2015), a sixth-rounder on Vitale and a fifth-round choice on Boise State's Jeremy McNichols (2017). None of them played a game for the team, though Vitale and McNichols (Tennessee) are currently on NFL rosters.
The most recent running back selection for the Buccaneers is the one most likely to inform their approach to the 2019 draft. The Buccaneers picked USC's Jones at number 38 overall in 2018, making him the fifth back off the board and one of five to be drafted over the span of a 17-pick run. The team, having moved on from Martin earlier in the offseason, envisioned Jones providing a speedy, big-play complement to power runner Peyton Barber.
That did not come to fruition in 2018, however. Jones was inactive for the first three games and injured for a stretch in the middle of the season; in between, he didn't see much action. Jones finished his season with 77 yards from scrimmage and his 1.9-yard per-carry average was far from the big-play ideal the Buccaneers had in mind. However, Licht indicated at this year's Combine that he was anticipating a significant rebound from Jones in his second season. How convinced the Bucs are of that outcome could factor into whether or not they use one of their 2019 draft picks on the running back position.
Carmen Vitali: RB Ryquell Armstead, Temple
Armstead's physicality has kind of sold me on him, especially for the role of a third-down back if you're assuming Peyton Barber is the every-down guy like Arians thinks he can be. Armstead rushed for over 1,000 yards his senior season, scoring 13 touchdowns on the ground. He had an incredible six touchdowns in the Owls' 59-49 win over Houston and before you ask, yes, Ed Oliver was injured for that game but still, six rushing touchdowns is insane.
Armstead's Combine numbers were great too, running the 40-yard dash in 4.45 seconds. I also think that this staff for the Bucs will love the Temple connection, making me think he's a strong possibility in the later rounds for Tampa Bay to grab.
Scott Smith: James Williams, Washington State
I am making this choice with the idea that the Buccaneers will focus on other positions through the first four or five rounds and hoping that Williams is available later on Day Three. His relatively low rushing totals (in a Mike Leach spread offense that was never going to produce big ground numbers) and his 4.58 40-yard dash at the Combine don't jump off the page, perhaps making him a later-round possibility.
What does stand out about Williams' numbers at Washington State were his pass-catching totals. In his three seasons as a featured part of the Cougars' attack, Williams caught 48, 71 and 83 passes. He has reliable hands and an arsenal of open-field moves to make tacklers miss. Williams isn't the biggest back and he may need some work in pass protection, but he would offer the Buccaneers another option as a pass-catching third-down back in case neither Andre Ellington nor Shaun Wilson grabs that role. Williams is also a high-effort player who has overcome a lot of adversity in his life and is thus likely to fight hard for every opportunity.
Story By: Scott Smith and Carmen Vitali