Five years ago, the Tampa Bay Buccaneers used the seventh-overall selection in the 2014 NFL Draft to select Texas A&M's Mike Evans, marking the highest pick the franchise had ever used on a wide receiver. It has proved to be, simply, one of the best picks the team has ever made.
The 2019 NFL Draft will arrive in just two days and the Buccaneers could, if they were so inclined, use an even higher pick on the position. They enter the draft in possession of the fifth overall pick and likely could have their choice of any wide receiver on the board. Given the team's strength at the position and the more obvious needs on defense – as well as a prospect pool loaded with potential defensive difference-makers – that seems unlikely. Still, the draft has seven rounds and at some point Tampa Bay may want to add to a position that lost two notable performers earlier in the offseason.
In the final days leading up to the this year's draft, we are examining six positions in which the Buccaneers might reasonably be expected to have interest this year, three on offense and three on defense. We'll look at the available prospects, the Buccaneers' recent history of drafting at the position and the team's existing depth at that spot. At the end, Carmen Vitali and I will each suggest one good fit for the Buccaneers from this year's pool of prospects.
Here is the schedule of the positions we are analyzing in this six-part series:
Today we're focusing on the wide receivers. Tampa Bay's depth chart at the position is topped by Evans and rising-star Chris Godwin but no longer features speedy big-play maker DeSean Jackson (traded to Philadelphia) or Adam Humphries (signed with Tennessee as an unrestricted free agent). Former first-round pick Breshad Perriman, another speed merchant, was signed as a free agent after he had a career-resuscitating second-half run last year with Cleveland. The Bucs might also be able to get more out of such young players as Justin Watson and Bobo Wilson, but it would be no surprise to see more talent added in the draft.
NOTE: All of the information and opinions offered below belong to the authors and are not meant to reflect the thoughts or strategies of General Manager Jason Licht, Head Coach Bruce Arians or any members of their respective staffs.
Again, the selection of a wide receiver with the fifth pick would be a surprise left turn for the Buccaneers, but things could change if the team finds a partner with which to trade down. Similarly, the Buccaneers could conceivably maneuver back into the bottom of the first round from their spot in the second round, which would put some receiver prospects in play on Thursday night.
Those teams that are looking for receiver help will be choosing from an eclectic bunch this year. There's D.K. Metcalf, who's carved from stone and has incredible measurables but only 67 career catches at Ole Miss. There's Oklahoma's Marquise Brown, who has actually been compared to DeSean Jackson and has that sort of big-play potential but is also very slight. There's Arizona State's N'Keal Harry, who is definitely not slight at 6-2 and 228 pounds but may not be the smoothest route-runner.
And so on. There is some projection at work with most of the top options and not necessary a complete enough prospect to go in the top half of the round, though it only takes one team to be sold on Metcalf's potential to change that.
Parris Campbell of Ohio State, A.J. Brown of Ole Miss and Deebo Samuel of South Carolina could all be options for teams looking for receiver help late on Thursday night. Campbell didn't have big numbers in Ohio State's offense, but that was true of Michael Thomas, too, and he has blossomed in the NFL. Campbell ran a 4.31-second 40-yard dash at the Combine, so he offers top-notch speed in a bigger and probably more durable package than Marquise Brown.
A.J. Brown had all the production in the Ole Miss offense that Metcalf lacked, including 1,320 receiving yards last fall, and he helped himself considerably at the Combine by running a 4.49-second 40-yard dash. He also has good size and strength and can win the physical battle as well as the footrace. Similarly, Samuel is another tough player who could be an ideal fit in the slot.
Where there are maybe only a couple true first-round receiver prospects in this draft, the pool gets dramatically deeper on value picks in the later rounds. One name that Scott didn't mention above that he very well could have is University of Massachusetts' Andy Isabella. He's a little undersized from a smaller school but this guy is fast. And he's a great route-runner with a lot of athleticism. He clocked an incredible 4.31 40-yard dash time at the NFL Combine and has been graded out at a 5.57 by NFL.com, meaning he could very well be an NFL starter. If his crisp cuts and ball-handling skills can make up for what he lacks in size, he's going to be a legitimate slot or deep threat. Look for him to go in the second round.
Day Two could also see a guy like Lil'Jordan Humphrey go, and yes that's his full name, I'm not just passing judgment. What's ironic is that Lil'Jordan isn't very 'lil' at all. He stands at 6-foot-4 and weighs 210 pounds coming out the University of Texas. The 4.75 speed he posted at the NFL Combine is combatted by the fact that he can make contested catches and just simply reach over opposing corners. He'd be a great pickup for teams looking for more outside receiver help.
Get into the later rounds and you're still going to end up with names like Hunter Renfrow out of Clemson and Jamal Custis out of Syracuse. I first got to talk to Renfrow at the Senior Bowl and admittedly, walked right past him at first. He's about as unassuming as they come but his high-profile catches on high-profile Clemson teams have earned him enough notoriety to earn that invite to Mobile as well as one to the NFL Combine. His size is the biggest knock against him but he's slippery and able to get a deceiving number of yards after the catch, which was on full display against the country's best talent at Ladd-Peebles Stadium at the Senior Bowl.
Custis is a guy that has size but could maybe use a little development on his route-running. This guy is big, standing at 6-foot-4 and 214 pounds. He earned himself an invite to the Combine as well as the East-West Shrine game and there he stood out in every way. He's got great hands and was very productive for the Orange, leading the team with 906 yards and six touchdowns on 51 catches in his senior season, earning him All-ACC honors. If he stays healthy and works a little more on his routes, the team who takes him will get some incredible value.
The most glaring need in the wideout room is probably at slot receiver where Adam Humphries once was. The Bucs signed Breshad Perriman in free agency to be that deep threat, thereby replacing the traded DeSean Jackson. Coach Arians has set some lofty expectations of wide receiver Chris Godwin, who will be in his third season in the league, to the tune of being a near-100 catch player. He'll do that by lining up in all sorts of alignments, include inside as a slot receiver. It seems like Arians has the same plan for Godwin as he did for Larry Fitzgerald once upon a time. A notorious threat on the outside, Arians moved Fitzgerald to the slot and Fitzgerald thrived. From 2015-2017, he had three consecutive 100-plus catch seasons. It seems Arians sees something in Godwin that could see him do the same.
Of course, Fitz didn't have Mike Evans on his team. Evans is just the third player in the history of the league to start his career with five consecutive 1,000-yard seasons. What's even more incredible is that he's done it without ever having a 100-catch season. The closest he got was in 2016 when he had 1,321 yards on 96 catches. However, this past season, Evans had a career-high 1,524 yards and he did it on 86 catches. Throw in that the Bucs have two of the best pass-catching tight ends in the league and you have five viable receivers to work with on any given down. This doesn't account for younger receivers waiting in the wings like second-year player Justin Watson, who the team drafted out of Penn last year.
Because of all of this, I don't think receiver is very high on the priority list for the Bucs even after letting Humphries and Jackson go. If they do end up drafting a receiver, I don't think it'll be until the later rounds. I'd love to see Clemson's Hunter Renfrow end up in Tampa Bay. Back in January, Humphries, who is close friends with Renfrow, told me we had better draft him should he end up leaving. He's a more advanced version of Humphries essentially, having made big-time catches in big-time games (National Championships, plural) and earning invitations to the Senior Bowl and NFL Combine, unlike his predecessor.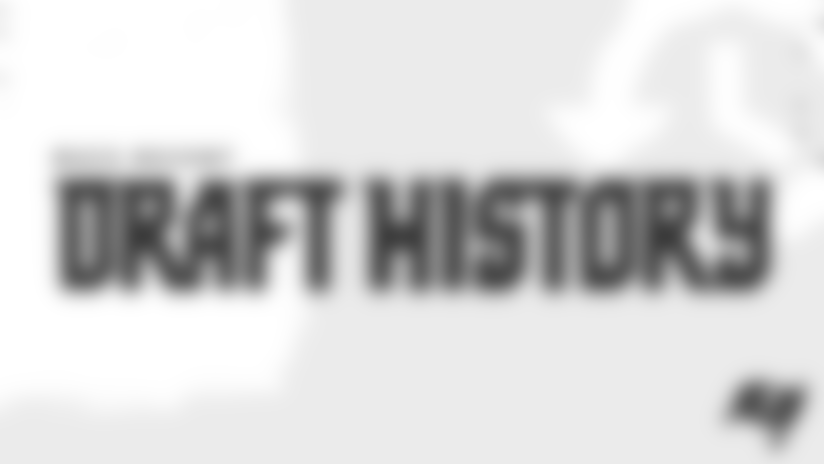 In his five previous drafts as the Buccaneers' general manager, Jason Licht has taken two swings in the first half of the draft and hit a pair of home runs. Like, moon shots, no-doubters, ones where the outfielder doesn't even move.
That would be the Mike Evans choice noted above and 2014 and Chris Godwin in the third round in 2017. Evans is simply one of the four or five best receivers in the league – in fact, he has the fifth most yards and fourth-most touchdowns over the last five years – and Godwin looks like he's on the verge of returning first-round value after two very promising opening seasons.
Evans is coming off the most prolific receiving season in franchise history with his record-breaking 1,524 yards and eight touchdowns, a campaign during which he averaged 17.7 yards per grab. He was the first NFL player in seven years and just the ninth ever to average more than 17 yards per catch in a season in which he surpassed the 1,500-yard mark.
Meanwhile, Godwin now has a clear path to a full load of offensive snaps, prompting Bruce Arians to say "he's never coming off the field" and he "is going to be close to a 100-catch guy." Godwin had 842 yards and seven catches last year while essentially sharing a starting spot with the now-departed Jackson. Now, with slot man Humphries also moving on in the offseason, Godwin will get snaps outside and in the slot and should give the Bucs one of the most prolific receiving duos in the NFL.
Those two pass-catchers came on Day One and Day Two of their respective drafts. The Bucs have also spent four Day Three picks on receivers in the last five years, without a lot to show for it yet. The one remaining player out of those four is Justin Watson, picked out of Penn a year ago. Watson has good size/speed profile and could also see more playing time in his second year with the departures of Jackson and Humphries. Robert Herron, a sixth-round pick in 2014, and the 2015 fifth and sixth-round duo of Kenny Bell and Kaelin Clay came and went without making an impact. This is not particularly surprising. Receivers are common late-round picks because teams take a shot on a player with one or two impressive traits, hoping they can develop him into a productive overall player.
The Buccaneers' recent draft history at wide receiver is impressive when it comes to the first three rounds. Of course, those hits may mean the team is less likely to spend an early pick on another pass-catcher this year.
Carmen Vitali: Hunter Renfrow, Clemson
You've got the outside receiver in Mike Evans. You've got a do-it-all guy in Chris Godwin. You've got the speedster in Breshad Perriman. You've got big men in O.J. Howard and Cam Brate good for the check-down option or in Howard's case, down the sideline too. Who else do you really need? I think there might be more room for that checkdown-type receiver; ol' reliable, like Humphries had become, which is why I'm thinking the Bucs can go with Humphries 2.0 in Renfrow. Coach Arians has said in his offense there is a touchdown and checkdown available to his quarterbacks on every play. Renfrow can be that checkdown option that will always be where you need him to be for a quick completion.
His bio on Clemson's website starts, "Original walk-on who earned a scholarship in August 2015 and put together one of the most unlikely yet storied careers in Clemson history […]" and for good reason. That storied career includes the school record for starts by a receiver (47) and consecutive games with a reception (43). He also caught the go-ahead game-winning touchdown in the 2016 National Championship game against Alabama with ONE second left. Incredible stuff for such an unassuming guy. He'll be some team's secret weapon and here's hoping that team is the Bucs.
Scott Smith: Ryan Davis, Auburn
The Buccaneers recently got a close-up look at Davis, as he was one of 45 "local" prospects to come to the AdventHealth Training Center for a workout on April 12. He was eligible for the team's annual local workout because he hails from St. Petersburg and was an all-state quarterback at Lakewood High School. He went to Auburn to play receiver, however, and set a school record with 178 career receptions. His average of 8.7 yards per reception is indicative of the types of passes he usually caught – quick ones to get the ball in his hand and let him do the rest, as he was considered a talented runner. In other words, he could conceivably develop into a slot receiver in the NFL. The Bucs just lost one of those.
Moreover, Davis was Auburn's punt returner for Auburn last year, and the Buccaneers need one of those two. At the NFL Annual Meeting in March, Arians said he didn't yet know if his new team had a solution for that job on the current roster. He also said that the winner of that job doesn't have to have 4.3 speed; rather, a 4.7 guy who can make the first tackler miss can work, as well. He specifically mentioned T.Y. Hilton as an example. Hilton returned punts as a rookie, the year Arians took over as the Colts' interim head coach and averaged 12.7 yards per attempt, scoring one touchdown. Davis is roughly the same size as Hilton and, at Auburn's Pro Day, he ran a 4.61 40-yard dash. That number is likely to make Davis a Day Three selection, which is where I would most expect the Buccaneers to address the receiver position this year.
Story By: Scott Smith and Carmen Vitali