The 2019 NFL Draft will kick off at 8:00 p.m. ET on the evening of Thursday, April 25, which is just five days away. Barring a trade, the Buccaneers will be the fifth team on the clock and will have a new potential star on the roster less than an hour into the proceedings. The remaining six rounds will be conducted on Friday night and Saturday afternoon, and Tampa Bay currently owns one selection in each round.
In the final days leading up to the this year's draft, we are examining six positions in which the Buccaneers might reasonably be expected to have interest this year, three on offense and three on defense. We'll look at the available prospects, the Buccaneers' recent history of drafting at the position and the team's existing depth at that spot. At the end, Carmen Vitali and I will each suggest one good fit for the Buccaneers from this year's pool of prospects.
Here is the schedule of the positions we are analyzing in this six-part series:
Today's focus: Linebacker, which is already a position in flux for the Buccaneers thanks to one key departure, a new arrival in free agency and, just as critically, a new 3-4 defensive scheme. One important note: For this position we are considering players who would be labeled as "inside linebackers" in that 3-4 front. Pass-rushing linebackers, like Kentucky's Josh Allen, will be included in the defensive linemen/edge rushers group on Monday.
NOTE: All of the information and opinions offered below belong to the authors and are not meant to reflect the thoughts or strategies of General Manager Jason Licht, Head Coach Bruce Arians or any members of their respective staffs.
As we noted in Friday's look at the running back position, there were mock drafts early in the calendar year that matched the Buccaneers with Alabama's Josh Jacobs, but those predictions have disappeared in the months since. The idea that the Bucs might snag LSU linebacker Devin White, however, has not only had staying power but has only picked up steam as the real draft approaches. The departure of Kwon Alexander in free agency definitely strengthened that perceived connection.
White is widely considered the top non-edge-rushing linebacker available (though he does have some pass-rushing ability) and a prospect worthy of a top-10 pick. He ran a 4.42 40-yard dash at the Combine but, more importantly, he plays at a very high speed. A former running back, he has incredible range and can make plays all over the field and even in the backfield. Last year he was tabbed as the nation's top college linebacker after amassing 123 tackles, three sacks, 12 tackles for loss, six passes defensed and three forced fumbles. He would fit well in the Bucs' defense next to Lavonte David and give the team another much-needed playmaker on defense.
The other highly regarded Devin in this year's draft pool, Mr. Bush of the University of Michigan, has seen his draft stock rise in recent months, to the point where some analysts consider him essentially equal to White. His Combine numbers, in fact, were very similar to the ones White put up, including a 4.43 40-yard dash. At 5-11 and 234 pounds he might be a bit undersized for inside linebacker, but that has never seemed to concern the Buccaneers too much at that position. Similar things were said about Lavonte David and even Derrick Brooks before they were drafted.
Like White, Bush is fast and rangy, and he might even be a tad more instinctive. He is good in pass coverage, as evidenced by his 11 pass breakups over the past two years, and he should be able to stay with third-down backs when they leave the backfield and run routes.
If another non-edge-rushing linebacker is able to penetrate the first round on Thursday, it will likely be Alabama's Mack Wilson. Wilson has been compared to one of his predecessors with the Tide, C.J. Mosley, and if this year's round of free agency is any indication, a Mosley type of talent is very valuable indeed. Wilson is a little bigger than White and Bush and technically sound, though not as fast. Despite that, he is outstanding in pass coverage – he led Bama with four picks last year – and that's an outstanding trait for an NFL inside linebacker.
Wilson seems likely to go later in the first round if his name is indeed called on Thursday night, so this is likely only an option for the Buccaneers if they have traded down one or more times that evening.
While there may only be a couple linebackers thought fit to go on Thursday night come draft weekend, there will be a bigger pool looking to go in rounds 2-4, Notre Dame linebacker Drue Tranquill being one of them. The Notre Dame product is an interesting case and one the Bucs could be very interested in. Tranquill played safety up until his senior season in 2017 when he switched and started all 13 games at linebacker for the Irish. During that year he was third on the team in solo tackles, recording 44 with 41 assists and 10.5 tackles for loss. He also led the team in fumble recoveries with three, recorded one forced fumble, four passes defended and an interception. His graduate season in 2018 and last game with Notre Dame ended with a season-high 11-tackle performance against Clemson in the Cotton Bowl.
He's had a solid offseason leading up to the draft with great performances at both the Senior Bowl and NFL Combine. Notably, his strength and agility were put on display most, recording 31 reps on the bench press and a three-cone drill time of 6.94. He was the Practice Player of the Week for linebackers in Mobile, as well. His do-it-all skillset makes him an ideal candidate for more of a hybrid safety-linebacker role. That's likely to exist in the Bucs' new defensive scheme under Todd Bowles, which lends itself to 3-4 principles and a lot of flexibility within each level of the defense.
Sione Takitaki is probably most known for his name that matches up with a popular song Cardi B is on, but he could also be a great value pick later in the draft. Last season with BYU he totaled 118 combined tackles, a career high for the senior and earned himself an invitation to the East-West Shrine Game. He impressed so much during that week that he garnered a last-minute invitation to the Senior Bowl in Mobile, where he proved he can roll with the best of them. He garnered an NFL Combine invitation as well and had a solid outing with a 4.63 40-yard dash and a 4.28 20-yard shuttle time while in Indianapolis. Linebackers, and most defensive players in general, have it a little harder given that they can't hit during practices for the aforementioned all-star games and are still less than full force during the games themselves. It makes it difficult to stand out but Takitaki has done enough to warrant a second look and could be a good pick in the later rounds for added linebacker depth.
Tre Watson out of the University of Maryland looks to be another good depth pickup in the later rounds. He had five interceptions for the Terps in his senior season, the most of any linebacker in program history, but he's probably best known for his hard-hitting tackles. He led the Big Ten in tackles per game with an average of 9.6, totaling 114 on the season. He recorded 15 tackles in a game twice in 2018, first against Temple then against Iowa. He was another Combine snub that left people scratching their heads and wanting to see more. He posted good numbers at Maryland's pro day with a 4.73 40-yard dash and 4.14 20-yard shuttle time at 6-foot-2, 236 pounds. Bucs fans might recall his name from his high school days at Tampa Catholic. Teams in need of confident tacklers in space would benefit from a guy like Watson on the roster. He's not going to give you that explosive burst to get to the quarterback on blitzing downs but he's a solid producer with an eye for the ball in coverage.
Again, we're talking inside linebackers here and with a scheme that has more of a differentiation between inside and outside, that's important to note. Right now, the Bucs have a defensive anchor at inside linebacker in Lavonte David. He'll be leading the charge for the middle level but he's going to need help. The Bucs re-signed Devante Bond, who was primarily utilized on special teams before injuries forced him into a starting role last season. Kevin Minter was also re-signed given his familiarity with the coaching staff from his time in Arizona under Arians and Riley Bullough remains under contract through 2019. The status of guys like Kendell Beckwith, still recovering from a 2018 offseason auto accident, and Jack Cichy, recovering from a torn ACL in Week Seven of last season, is uncertain so the Bucs have added to the room in free agency. They picked up Deone Bucannon, who also played under Arians in Arizona, though not under Defensive Coordinator Todd Bowles. Corey Nelson signed with the team after spending four years in Denver and last year in Atlanta.
You'll also recall the Bucs signing of Shaq Barrett in free agency but remember how I said to note the difference between inside and outside linebackers going forward? Barrett spent time in a reserve role in Denver behind outside linebacker Von Miller. Barrett did say he wants to start and that he's willing to play all over the defense, including in coverage and against the run, lending himself to roles traditionally suited for inside backers. But there's a real edge rush desire and skillset that makes me think he'll still be used in more of an outside role.
Put all of that together and what do you have? Well, the Bucs aren't exactly sure. Deone Bucannon has already said he's been used in more hybrid roles that have him playing safety about as much as he's playing linebacker. Could Beckwith return from injury ready to go on the inside and fill that Mike linebacker role like he did in college? There are still question marks surrounding who could be the defensive signal caller on the field after the departure of Kwon Alexander in free agency so I have to think there is a strong need for another true inside 'backer. Is it enough to take the first inside linebacker in over two decades in the first round? When you're looking at a talent like the aforementioned Devin White, the answer could be yes.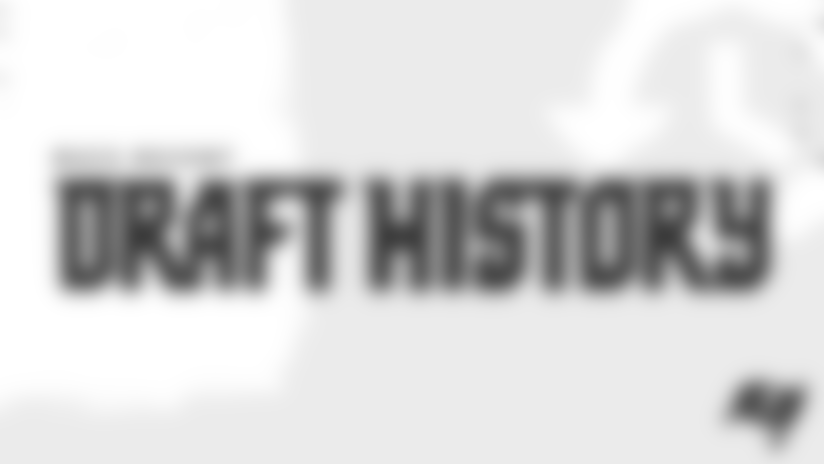 The Buccaneers have snared one linebacker in each of the last four drafts, four of the five since Jason Licht took over as General Manager in 2014. However, if they do address the position in the first round this year it will harken back to a day long before Licht arrived. The last time the Buccaneers used a first-round pick in a linebacker was, as Carmen noted, more than two decades ago, when the team made history by snagging the first-round Hall-of-Fame duo of defensive tackle Warren Sapp and linebacker Derrick Brooks. That turned out well.
The Bucs' linebacker picks under Licht have come on the second and third days of the draft and they have also worked out well. In particular, the fourth-round hit on Kwon Alexander in 2015 ranks as one of the team's best-value picks in a long time. Alexander immediately emerged as a playmaker in his rookie season and, despite a couple of unfortunate injuries including an ACL tear last season, was able to command a lucrative deal in free agency from San Francisco. Two years later, the Buccaneers returned to the LSU pool of talent to take Kendell Beckwith in the third round, despite a knee injury that had ended his final year with the Tigers in November. Beckwith made an impressively quick recovery and was also a starter to begin his rookie season. He eventually played a variety of positions thanks to injuries at both linebacker and defensive line and looked to be an emerging cornerstone for Tampa Bay's defense. That future became complicated, however, when Beckwith suffered a serious ankle injury in an auto accident last April, which eventually wiped out his entire second season.
In between the Buccaneers used a sixth-round pick in 2016 on Oklahoma's Devante Bond. Bond has not yet emerged as a starter, behind a handful of games last year, but he has provided good depth, has been productive on special teams and got a new one-year deal earlier this offseason. That alone stands as a success for a sixth-round pick.
Most recently, Tampa Bay used another sixth-round selection in 2018 on Wisconsin's Jack Cichy, who had missed much of the previous two seasons due to injuries. Cichy, too, was able to recover in time for his rookie season but his injury misfortune continued when he sustained another ACL tear six games into that campaign. He should be ready to go for his second NFL training camp, however, and if he is gifted with some better luck he can still fit into the Bucs' linebacker picture for years to come.
As good as Licht and the Buccaneers have been at finding linebacker value in the third round and beyond, those picks might not have much effect on this year's draft strategy. Alexander has departed with a deservedly big deal and there isn't an absolute definite starter among the other three, especially considering the 2018 injuries to Beckwith and Cichy.
Carmen Vitali: Devin White, LSU
White is the best inside linebacker in this draft, period. He's been widely regarded as a top-five talent and you can miss me with your positional value arguments. The guy can play. The guy can run, too. His blazing 4.42 40-yard dash time at the Combine was the best among the linebacker group and was coupled with a 39.5-inch vertical jump that tells me he's explosive, too. He's 6-foot-1 and weighed in at nearly 240 pounds, giving him a size and speed combination that should be music to Bucs fans' ears. After posting 123 total tackles in 2018, he terrorized Texas A&M in the Tigers' last regular season game, recording 17 tackles and a sack against the Aggies. 17! Against a good Texas A&M team.
To be that true inside linebacker the Bucs need and be able to signal a defense, especially this defense with how reactive it is, he'll need to be better about some of his reads. A knock I've seen on him is his ability to be fooled by play fakes and get caught up in slower reads. But once he's in the system, he'll be a tremendous asset with his skillset. Underneath in coverage? His bread and butter. Bringing interior pressure from the middle level? Great, he's super physical. He can and would do it all, which is something I'd very much like to see. And if the Bucs want to see that too, they'll have to grab him at five.
Scott Smith: Tre Lamar, Clemson
I'm thinking the Buccaneers could use some size for their inside linebacker position. Lavonte David should excel in any format and Deone Bucannon is very familiar with what Bruce Arians and Todd Bowles will be scheming. That's a great start, and if Beckwith returns to his previous form he would be a great option as a bigger presence in the middle of the defense. But let's hedge our bets here and take a defender from the national champs.
Lamar (6-3, 253) definitely has size; in fact, there is some thought that he could possibly put on a little more weight and be a part-time pass-rusher off the edge in a 3-4. Call that a bonus. Lamar didn't work out at the Combine due to injury and there seem to be competing opinions among scouts as to his true NFL potential. For that reason, I'm suggesting this as a fourth-round pick for the Buccaneers, with the thought that he might fall a bit in the draft. That could end up being another mid-round boon at linebacker for Licht and the Bucs.
Lamar was a finalist for that Butkus Award that went to White and he was very productive for the Tigers last year, recording 85 tackles, three sacks, 8.5 tackles for loss and an interception.
Story By: Scott Smith and Carmen Vitali