Outside linebacker Jason Pierre-Paul said prior to Monday night's game on his Instagram story that he was about to show us all what the difference was between a 'player' and a 'baller'. Pierre-Paul is decidedly the latter and it's nothing new. He has overcome some crazy obstacles over the course of his career. Obstacles that he's had to adjust to permanently – like a fireworks accident that took multiple fingers from his right hand.
That'd be a challenge for any normal right-handed person going about their daily lives. But when you rely on your hands to give you an advantage over an offensive lineman at the highest levels of football? One could forgive him for not being the same player he once was – forget expecting any sort of 'ball hawking' abilities at the very least, right? He already plays a position that isn't traditionally placed in situations that are conducive to picking quarterbacks off. No, his mission is more often than not to get to the quarterback before he has a chance to get the ball out of his hands in the first place.
And he still excels at that aspect of his game, for the record. The Bucs' defense has the third-most sacks of any team in 2020 and Pierre-Paul leads that unit in the category, recording 7.5 sacks so far this season. He has 10 quarterback hits.
But if JPP doesn't limit himself, why would anyone else - including his defensive coordinator?
"He told me from day one that he's going to put me in position to win and that's what he's been doing," said Pierre-Paul of Defensive Coordinator Todd Bowles. "I'm thankful that he's putting me in position to win and I can just go out and play some fun football. I don't have to worry about anything – just go out there and play like a little kid like I do."
And the last few weeks, Pierre-Paul has found himself in positions to make plays on the ball, whether it be taking down ball carriers or getting his hands on the ball himself. It's resulted in two interceptions in as many games for the outside linebacker, when he only ever had two interceptions to his name coming into this season. He was also integral in stopping the Rams on the ground in a game where they rushed for a total of 37 yards.
He did a little bit of everything under the bright, shiny lights of Monday Night Football and deserves the recognition for having a resurgent year in his 11th season. So let's give it to him.
Check out a few of his plays from Week 11 vs, the Rams below.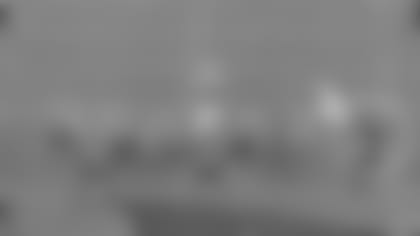 Let's start this off with a bang, shall we? It was the very first series of the second half after the Rams had squeaked in a field goal before halftime, thereby swinging momentum in their favor with back-to-back possessions. JPP decided to change that. After converting a second-and-11, Rams quarterback Jared Goff had first and 10 facing the Bucs in their nickel package. Pierre-Paul is lined up in a wide five with nickel corner Sean Murphy-Bunting right behind him off his inside shoulder.
After the ball is snapped, Pierre-Paul engages with the tackle but keeps his eyes on Goff the entire time. And wouldn't you know it? Either Goff is late with his throw or his running back, Darrell Henderson, has overshot his route. Instead of sitting in the spot Goff throws to, Henderson keeps going. Meanwhile, JPP has since disengaged and is in prime position to make the catch – which he does. What makes it even more impressive is that he called his shot before the drive. On the Bucs' Mic'd Up from this week, you hear JPP tell his teammates he's about to get an interception after watching the Rams' screen passes all game.
Baller. Shot-caller. Wonder if he has 20-inch blades on an Impala? (Yes, I had been waiting all this time to drop that in, thanks).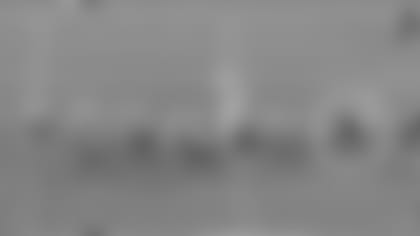 Remember how I said Pierre-Paul did a little bit of everything in this game? After getting his hands on the interception, later in the quarter he then helped stuff the run. The Rams had just re-taken the lead by a touchdown but Pierre-Paul ended up setting the tone for their next possession on first down. The Bucs are in their nickel formation again, this time with defensive lineman Rakeem Nuñez-Roches shading the center to the open side of the formation. He's helpful in finishing a tackle that JPP starts from again, that wide-five alignment. Pierre-Paul never puts his hand in the ground though, standing up the entire time just like his counterpart Shaq Barrett on the other side of the formation.
The Rams have Henderson lined up again directly behind Goff with extra blockers in the form of two tight ends to Goff's right and away from JPP. The Rams then motion a receiver over tight to the formation, which draws safety Antoine Winfield Jr. with him to the outside of JPP. This doesn't end up mattering because as the ball is snapped to Goff under center, JPP completely blows past the tackle inside and away from that motioning receiver and meets Henderson at the line after the handoff. At one point, JPP's feet leave the ground as he goes for the full throttle takedown. Los Angeles would end up punting on the drive.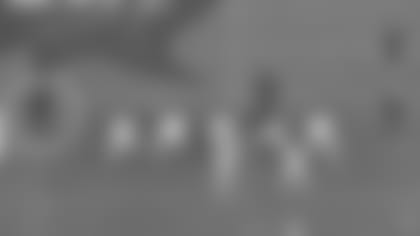 Not quite done with the ball, Pierre-Paul added a pass defensed late in the game on third down to force a three-and-out from the Rams offense. They had been backed up by a second-down holding penalty and were facing 3rd and 16 in an attempt to cushion their one-score lead. The Bucs are again in their nickel formation, expecting the pass, and JPP is again the wide-five, standing up and threatening to rush. The Rams have a standard five-man protection with a three-by-one formation of receivers and the running back flanking Goff in the shotgun away from the trips side. The Bucs are manned up in coverage with Mike Edwards as the deep safety and end up rushing four – one of which is JPP.
The Rams' left side of the line takes off in order to block downfield as Goff throws the screen to wide receiver Robert Woods. And while the quick throw accounted for the fact that JPP would be coming in unblocked, it didn't account for him getting his hands up and breaking up the pass before it can even get to Woods. Which is what he did. Los Angeles punt.